UofL's Conn Center ready to harvest 2018 hemp crop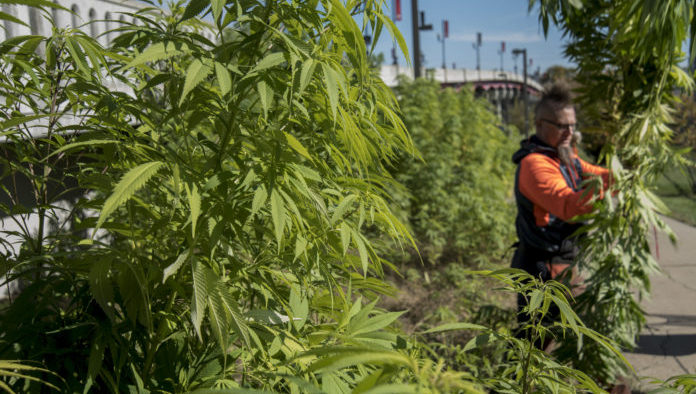 The University of Louisville's Conn Center for Renewable Energy Research, in its third year of growing industrial hemp and kenaf on campus as part of the Kentucky Department of Agriculture's Industrial Hemp Research Pilot Program, will harvest the 2018 crop at the end of October.
Industrial hemp and marijuana are two different strains of the Cannabis sativa plant. Industrial hemp seeds and leaves contain very low levels of delta-9 tetrahydrocannabinol (THC), the psychoactive agent in Cannabis.
Industrial hemp is a highly renewable resource with applications for food, medicine, chemicals and energy. Stalks, seeds, flowers and oils all have potential uses with established markets.
"Hemp research for renewable energy technologies is highly useful for local and regional industry, even those not related to renewables," said Mahendra Sunkara, director of Conn Center. "The theme of our biomass work is that we do not let anything go to waste."
Conn Center scientists and engineers have harvested about 2,000 pounds of hemp and kenaf since the project began in anticipation of industrial hemp's legalization in Kentucky. The UofL crop is one of eight at Kentucky colleges and universities grown as part of the state's pilot program into field-scale industrial hemp, but the only one being used for energy research.
"Our students and faculty really enjoy working on this initiative," said biology professor Mark Running, a faculty member of Conn Center contributing plant development expertise. "The opportunity to work on a timely challenge to improve our economy and society is exciting."
"The growing plants have been embraced by students at UofL, who frequent the hemp patches next to the Eastern Parkway viaduct for selfies," said Andrew Marsh, assistant director of the Conn Center. "We appreciate how passionately people support legalization and exploration of hemp as a renewable resource while also bumping up their Insta game."
The Conn Center fosters the development of transformational concepts and accelerates transition from lab to pre-commercial scale. The center maintains unique, state-of-the-art facilities for advancing scalable manufacturing R&D of solar, energy storage, biofuels, value-added chemicals and energy efficiency solutions.
Source: UofL's Conn Center ready to harvest 2018 hemp crop (UofL News, Oct. 10, 2018)