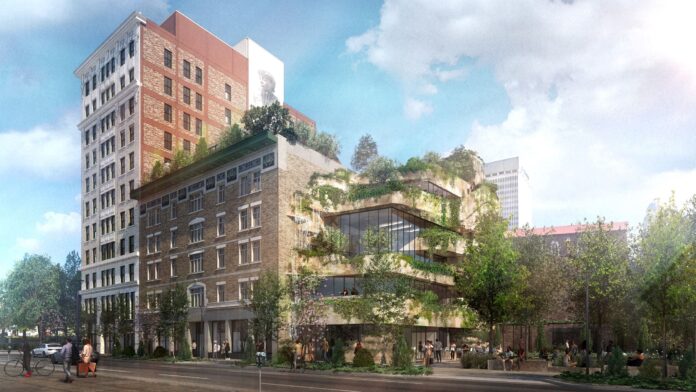 The University of Louisville is creating a new campus in downtown Louisville to be known as the UofL Christina Lee Brown Envirome Institute – New Vision of Health Campus, where study will focus on health as a shared community resource, incorporating environmental and cultural factors.
The campus will be both a world-class research center and a nexus for community engagement, spawning citizen scientists and making health equity everyone's pursuit. It will consist of two historic buildings on West Muhammad Ali Boulevard totaling 133,000 square feet and an adjacent garden space.
The launch of the New Vision of Health Campus is made possible by a commitment from health advocate Christina Lee Brown of Louisville valued at $47 million by the university. Brown is providing $30 million over 20 years to support the UofL Christina Lee Brown Envirome Institute and is giving rent-free use of the buildings to the university, equating to a $17-million in-kind donation. In a special meeting earlier today, the UofL Board of Trustees approved a lease granting UofL use of the property, which is owned by Brown. The university plans to seek additional partnerships and financial support for the campus and its mission.
"We are incredibly grateful to Mrs. Brown for this generous gift of support and this special space in the heart of the city," said Lori Stewart Gonzalez, interim president of UofL. "On this new campus, UofL researchers will increase our understanding of the many aspects of our environment that contribute to optimum health for everyone, here and beyond. It embodies our commitment to health equity."
"To grow from our past and promote long, fulfilling lives, we shouldn't chase any single cause. We live in a complex, interdependent world where history is our shared legacy and health is our shared aspiration," Brown said. "By honestly recognizing our common stories, we can frame a new vision of health which unifies us. It can inspire healthier lives, healthier communities and a healthier world."
The New Vision of Health Campus will include specially designed laboratories and offices for the UofL Christina Lee Brown Envirome Institute that will engage researchers and community members to learn how natural, cultural and personal environments impact health. Institute researchers work with community partners to discover how to build healthier cities, creating insights and models to improve health in Louisville and around the world.
The research will be directed by Aruni Bhatnagar, director of the UofL Envirome Institute, professor of medicine and chief of the UofL Division of Environmental Medicine.
"Our quest is to pursue the new vision that health is a resource that needs to be cultivated through conducive physical and environmental conditions," Bhatnagar said. "Health is more than the absence of disease. Health is a resilience that helps individuals withstand all forms of stress. We want to move the discussion of health away from disease and instead focus on actively promoting health before disease occurs."
The UofL Christina Lee Brown Envirome Institute was created in 2018 with a $5-million gift from Brown that charged UofL researchers to take a holistic, multidisciplinary approach to understanding how the human-environment interrelationship affects peoples' lives and to convert that knowledge to actionable steps to promote human health. This research and the new funding announced today support the university's grand challenge strategic research priority of "Advancing Our Health," an initiative to lead a transformative shift in how we understand, promote and recover health through all stages of life.
Research highlights from the Envirome Institute include the Green Heart Project, documenting the health impacts of living among greater levels of vegetation, the Co-Immunity Project, tracking the presence and spread of COVID-19 in the community through testing of individuals and wastewater, and research to document the effects of smoking and vaping on health. Bhatnagar is co-director of the American Heart Association's Tobacco Center for Regulatory Science, and the center's research was employed as key evidence for ending the sale of flavored vaping products in California. The institute also houses the only NIH Superfund Research Center devoted to studying the effects of superfund chemicals on cardiovascular health, diabetes and obesity.
"This is UofL research that could transform the way we promote well-being by revealing and decoding the factors that affect it," said Kevin Gardner, UofL's executive vice president for research and innovation. "We are proud to work with Christina Lee Brown and appreciate her continued support to further this important effort in advancing our health. Together, we will help people here in Louisville and around the world live lives that are not just longer, but healthier and more resilient."
The gift announced today is the single largest philanthropic gift in the university's history.
Source: UofL to create New Vision of Health Campus for pioneering work to increase health equity (UofL News, May 25, 2022)