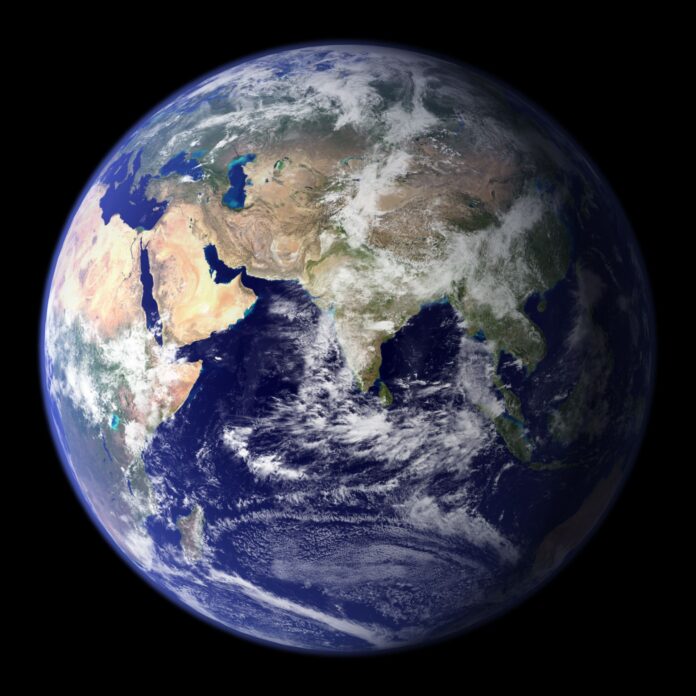 UofL is joining more than 100 universities around the nation and the world to focus on the critical issue of climate change as part of Solve Climate By 2030, a global project organized by Bard College in Annandale-on-Hudson, New York. The project will assess what can be done both in Kentucky and globally to help solve climate change while supporting struggling communities.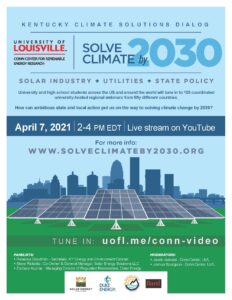 UofL will lead the project in Kentucky with a public webinar April 7 on "Green Recovery and Climate Solutions," one of 136 events held by universities in every state and 50 countries around the world in early April. Students and the public can participate in the project by watching the discussion with Kentucky energy experts on concrete ways to move the needle on climate change while creating jobs and income for all and then keep the conversation going in the classroom and in the community.
The UofL event will feature Rebecca Goodman, secretary of the Kentucky Energy and Environment Cabinet, Steve Ricketts, co-owner and general manager of Solar Energy Solutions LLC and Zachary Kuznar, managing director of regulated renewables for Duke Energy, which has a company goal to reduce CO2 emission by 50% by 2030 and 100% by 2050. The discussion will be moderated by Jacek Jasinski and Joshua Spurgeon, both faculty members in the UofL J. B. Speed School of Engineering and theme leaders in the UofL Conn Center for Renewable Energy Research.
"Our energy strategy must be market-based, aggressively pursue innovation and energy efficiency and promote a climate-resilient infrastructure," Goodman said. "It must focus on affordability, reliability and resilience."
"We have 10 years to solve climate (change) and we can get a lot done in this decade, but only if we focus the world on climate solutions," Jasinski said. "We are proud to lead Kentucky for this global climate education project, and we hope students and concerned citizens across the state will join us for this important conversation."
The event will be livestreamed via YouTube on April 7 from 2 to 4 p.m. A one-hour presentation will be followed by a one-hour panel discussion. The recorded webinar will be posted at the same YouTube address following the event. Register for the event at the Kentucky listing on Solve Climate by 2030. The recorded webinars from all participating sites will be posted there.
Teachers in higher education, high school and middle school are encouraged to assign the live or recorded UofL webinar as homework and lead the students in a discussion about the topics addressed. Project leaders from Bard College have prepared teaching guides to assist instructors in every discipline teach the class.
"You don't have to be an expert on climate to talk with your students," said Eban Goodstein, economist at Bard College and director of the Solve Climate project. "Every subject contributes to understanding climate solutions. Whether you are teaching art, literature, business, philosophy or any other discipline, you can access the easy-to-use teaching guides to make climate a class." 
In addition to the teaching support, organizers have designated the hashtag #MakeClimateAClass to spread awareness of the event and have developed a short video to emphasize the need for action.
Photo provided by PublicDomainPictures.net.