UofL is home to the first Black studies program established in the South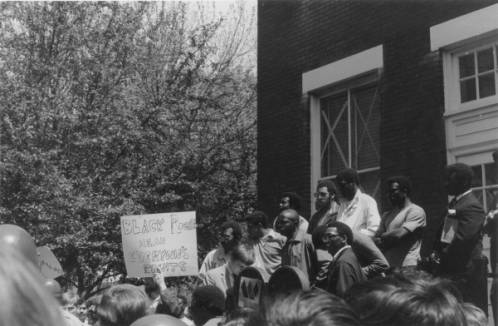 The University of Louisville does not shy away from the fight for equality. Instead, UofL tackles the issue head-on while celebrating diversity and fostering equity. UofL's commitment to this effort can be seen through programs such as the Cardinal Anti-Racism Agenda, Black Male Initiative and Martin Luther King Jr. Scholars program, among others.
But perhaps the most foundational effort in UofL's commitment to diversity and equity is the Pan-African Studies department.
The origins of UofL's Pan-African Studies department can be traced back to the late 1960s when there was unrest not only across the country, but also on campus. Ricky Jones, chair of the Pan-African Studies department, said during this time, there was a student-led effort to develop more Black Studies opportunities.
"Black students wanted to see themselves represented in the classroom and intellectually. We had a partnership of people in the community, students and their advocates both on and off campus who protested and fought to bring Pan-African Studies and other Black studies departments into existence," he said. "It was a student movement as the students partnered with the greater Louisville community in the 1960s and '70s."  
After hiring a small faculty, the Pan-African Studies department was officially established in 1973 to explore the original divide in America: the divide of race. The department is only five years younger than the first ever Black Studies department in the U.S. at San Francisco State University, making it one of the first departments of its kind in the country. It was the first such program established in the south.
While many colleges and universities created classes or programs in the Black Studies discipline, UofL dedicated its resources toward a full, comprehensive department. Instead of following in the footsteps of many other universities at the time that only focused on African-American studies, UofL intentionally broadened the scope of their department to focus on the global Black experience, as well as the American Black experience.  
Jones said the all-encompassing nature of UofL's Pan-African Studies department and the faculty, staff and students who have passed through the department throughout its 48 years are what make it so unique and put UofL on another level.
"The people and history of people who have come through our department really make us stand out," he said. "UofL has been lucky to hire many dynamic luminaries in this department. People like Blaine Hudson and Robert Douglas."
Hudson, who was kicked out of school and was once told he would never move up, worked to become a professor in the Pan-African Studies department and eventually rose to dean of the College of Arts and Sciences.
"These types of personalities helped build Pan-African Studies to what it is," Jones said. "There are strong professors in this department who also have strong commitments to the community and strong commitments to the ideals of Black studies, which is commitment to academic excellence and social responsibility. Pan-African Studies has had a long history of professors who take that very seriously."
Kaila Story is one of those dynamic professors.
With a joint appointment in the Pan-African Studies and Women's, Gender and Sexuality Studies departments, Story empowers her students to break barriers, encourages community engagement and emphasizes the importance of a holistic and intersectional learning experience.
"Pan-African Studies has always prioritized intersectional learning and activism with the courses it offers," Story said. "Because my identities have always lived within those intersections as Black feminist lesbian, I always wanted to obtain a job that would allow me to build intersectional curricula. Being dually appointed has not only allowed me to do my intersectional research, build intersectional curricula and engage in community activism that is intersectional in scope, but both departments have welcomed and encouraged that work."   
That work and the Pan-African Studies department have helped UofL create a lasting impact not only on its students, but also society and beyond, by continually expanding research and education in Black studies.
"We've been creating global citizens for a very long time," Jones said. "Whether students major with us, minor with us or just take a few classes, our students leave us seeing the world through a different lens."
Students can earn a bachelor of arts, bachelor of science, minor or PhD in Pan-African Studies. The department also offers field study and internship experiences and special courses on research methods, race, gender, diversity and intercultural education.
Jones said graduates of the department have gone on to varied career paths, including education, law and even coaching. But the thing that unites them all is the ability to view the world through different perspectives.
"Our students understand the world with a higher level of maturity about race, diversity and justice and understand that this isn't a monochromatic world," Jones said. "So if they go on to work in Louisville or beyond to even more diverse places like San Francisco, Atlanta, Miami or New York, our graduates fit into those worlds easier. We don't just create good students, we create good citizens for humanity."
Featured photo courtesy of University Libraries Digital Collections.
Source: UofL is home to the first Black studies program established in the South (UofL News, Feb. 18, 2021)