UofL Faculty awarded funding to investigate Environmental Health Literacy and Justice in and around Rubbertown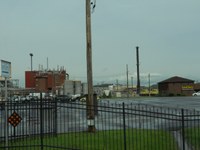 A recent alum of the UofL Sustainability Council's Green Threads: Sustainability Across the Curriculum faculty workshop, Megan Poole, assistant professor of English, and Shavonnie Carthens, assistant professor of law, have been awarded funding through UofL's Health Equity Innovation Hub.
The funding will support their work on a project entitled, "Getting the Listening" in Louisville: Environmental Health Literacy and Justice in and around Rubbertown.
With the Hub's support, Carthens, Poole and other Environmental Health Literacy Coalition partners will investigate community questions related to environmental law and environmental justice, with a particular focus on the disproportionate impact of air pollution on West Louisville's Black community.
Read more about the award in UofL News.
Megan Poole
Dr. Poole joined the faculty in 2020 after earning her BA from McNeese State University, MA from Texas Christian University, and PhD in English with a concentration in Rhetoric and Composition from Penn State University. Her interdisciplinary research and teaching centers on rhetorical theory, science studies, and technical writing, particularly focusing on how the biology of sensation informs and shapes theories of rhetoric.
Her current book project examines feminist epistemologies in the biological sciences that resist traditional reason-based approaches to scientific knowledge making. This project is based on her dissertation that was awarded the 2021 Rhetoric Society of America Dissertation Award. Her work has appeared or is forthcoming in Western Journal of Communication, Journal for the History of Rhetoric, and Quarterly Journal of Speech, among other venues.
Dr. Poole is also part of the Public Health Literacy Group, a coalition of community leaders, grassroots activists, and academic scholars focused on making the science of air pollution more accessible for constituents in District 3, an area that borders Rubbertown. In 2021, the Public Health Literacy Group was awarded a $250,000 Community Partners Program grant from The Humana Foundation.
Shavonnie Carthens
Professor Shavonnie Carthens teaches Lawyering Skills I, Lawyering Skills II, and Law and Literature. Her current scholarly interests include law and literature, applied legal storytelling and environmental justice.  She also researches and writes at the intersection of legal literacy, race, and the First Amendment.
Prior to joining the faculty of the University of Louisville Brandeis School of Law, Professor Carthens served as a Law Success Instructor at St. Mary's University School of Law. In this position she taught bar exam preparation, experiential legal analysis, and legal communication, analysis and professionalism. She also taught introduction to legal studies and bar exam preparation at Elon University School of Law.
Professor Carthens is very active in the law school, professional and local communities. She serves as the co-faculty advisor for the Brandeis School of Law Latinx Law Student Organization. She is also an active member of the Legal Writing Institute, where she sits on the organization's Pro Bono and Community Outreach Committee, as well as on the board for The Second Draft, a peer-reviewed publication dedicated to sharing ideas related to teaching legal research and writing. She also serves on the ABA Commission on Women in the Profession, Parenthood & Child Caregiver Study Advisory Council.
Her commitment to environmental justice advocacy is exemplified in her work as a partner of the Environmental Health Literacy Coalition (Louisville District 3). The Coalition's "Air Justice" project analyzes the impact of air pollution on the environment, with the aim of creating resources that make the information around environmental justice more accessible for public audiences.
Before pursuing a career in academia, Professor Carthens worked in private practice in the Washington, D.C. area, specializing in real estate law, wills and estates law, and business law. Professor Carthens remains an active member the Maryland Bar. Carthens earned her Juris Doctor, with honors, from North Carolina Central University School of Law, where she served as executive editor of the North Carolina Central Law Journal and received awards as a member of the moot court team and pro bono program participant.  She received her B.A. from the University of North Carolina at Chapel Hill.