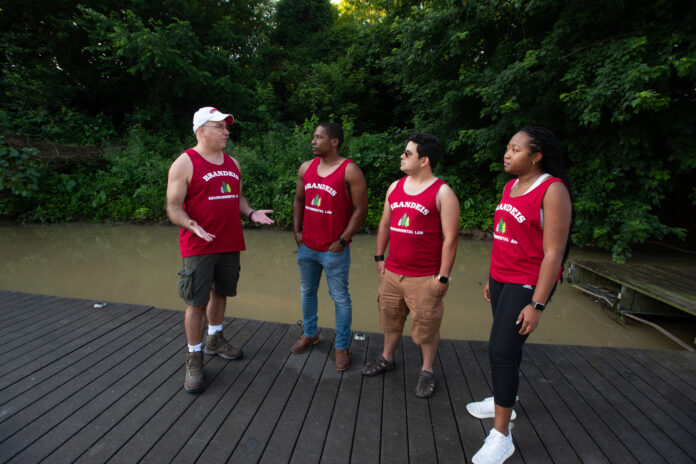 The percentage of lawyers of color in the United States is disproportionately low, with African Americans and Latino individuals making up roughly 5% each, according to the American Bar Association 2020 Profile of the Legal Profession. The numbers are even lower in the field of environmental law, and mirrors the environmental movement, generally, as most major organizations lack diversity among staff and supporters.
But the Brandeis School of Law at the University of Louisville is trying to change these statistics by addressing barriers to opportunities and providing mentorship to create greater equity, embracing the Cardinal Principles of leadership, diversity and inclusion.
Cameron Lyons and Lauren Neal, both second-year law students of color, are engaged in unique summer experiences. Lyons is taking part in a fellowship with the National Wildlife Federation. One issue he's helping tackle is equitable access to the Land and Water Conservation Fund that he hopes will result in more outdoor recreation opportunities in disadvantaged areas.
"It is important to have diverse representation in environmental law for the same reason it is important to have diversity in any field – perspective," Lyons said. "At the local, state and federal levels, attorneys of color contribute a unique perspective that safeguards the environment with respects to vulnerable segments of the population."
Neal is a community engagement intern for Kentucky Waterways Alliance and a legal intern for the Kentucky Equal Justice Center. She is creating relationships between KWA and communities of color within Kentucky to give underrepresented communities a voice in planning about water sources. Her work with KEJC involves legal research and writing to help impact litigation and legislative (state and local) housing and consumer law issues within Kentucky.  
"Representation can make a world of difference when it comes to bridging the gap of communication so that the cycle of exclusivity and marginalization stops. Having a seat at the table allows for those conditions to be replaced by the empowerment of being present and, moreover, being genuinely heard in shaping the conversations about the environmental injustices that affect these communities," Neal said.
Behind every great student is a great teacher
Both students credit Tony Arnold, Brandeis law professor and Boehl Chair in Property and Land Use, for mentoring them and making the connections needed to land their summer experiences.
"Professor Arnold has been the biggest mentor and encourager when it comes to my pursuits. He has been an amazing guide and wealth of knowledge on how to pursue my dreams – a true inspiration who has kept me motivated through a lot of tough times," Lyons said.
Arnold says when law students of color become interested in environmental law and related fields like land use and natural resources, they need mentors who will encourage their interests and connect them to valuable opportunities in the field. 
"Too often Black and Latinx law students are steered, sometimes subtly and sometimes not-so subtly, to fields that are perceived to be most salient to communities of color, such as civil rights, criminal law and affordable housing law, or to fields that are high-paying, such as corporate law or major litigation," Arnold said.
Although UofL's Brandeis School of Law has a small environmental law program, mentoring is one of several reasons for the success in connecting law students of color to the niche.
Arnold says aspects of race and ethnicity are integrated into all courses in related fields of environmental, land use and natural resources law. This allows students to explore the ways in which environmental conservation and racial justice are interconnected.
In addition, Arnold's research has influenced not only knowledge but also public policy and activism, which led to creation of the law school's Resilience Justice Project. He has been involved in many community issues, including service on the board of the West Jefferson County Community Task Force, and has collaborated with the late Robert Garcia of The City Project in Los Angeles. Garcia was one of the nation's top Latino environmental leaders and one of Arnold's mentors.
Students have opportunities to work with Arnold on this research. Most recently, half of the co-authors of his most recent article, "Resilience Justice and Community-Based Green and Blue Infrastructure," are current or former students of color.
"Our students get lots of personalized attention, support and encouragement," Arnold said. "All students, but especially our students of color, need to know their professors are invested in them and their educational and professional development." 
Source: UofL Brandeis School of Law strives to enhance the diverse make-up of legal experts in an underrepresented niche (UofL News, June 29, 2021)