Changing lives is the aim of UofL's new diversity, equity and inclusion initiatives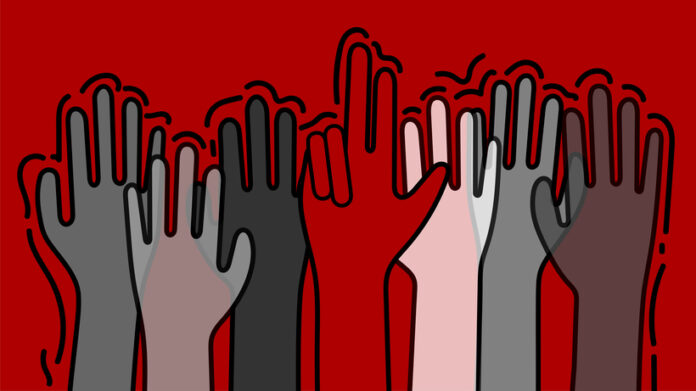 Since his Louisville arrival in May 2022, the message and aspiration of Lee Gill is unity. UofL's vice president for diversity, equity and inclusion (DEI) hasn't let off the gas pedal in bringing people together under one mission – changing lives. 
"Higher education positively affects social mobility, meaning students from all backgrounds – white, Black, Hispanic, from eastern Kentucky, western Kentucky, the suburbs, the inner cities, small towns, rural areas — become empowered to enhance the quality of life for themselves and their families, while increasing the talent dividend for the state of Kentucky," Gill said.
In the spirit of oneness, Gill has restructured DEI work at the Health Sciences Center and Belknap campuses under one umbrella: UofL's Division of Diversity, Equity and Inclusion. Establishing a new university-wide Inclusion and Equity Council represents another step. Chaired by Gill and the provost, the council includes one representative from every UofL college and vice-presidential unit, along with several community organizations including the NAACP, Americana World Community Center, Asia Institute Crane House, La Casita Center and the Louisville Urban League. The new 30 person-plus council meets quarterly for the purpose of information sharing, resource collaboration and solution development. 
"It is important that we not work in silos. Through collaboration, we will become more efficient and make a greater impact," he said.
Gill also is working with the Commission on Diversity and Racial Equity (CODRE) to prioritize the numerous recommendations made in the Cardinal Anti-Racism Agenda (CARA) report that will help move the university's DEI efforts forward. Additionally, the DEI division has created new positions and repurposed several existing roles to help in the effort.
The charge to the team is to launch new diversity training modules for faculty and staff utilizing the Intercultural Development Inventory (IDI) and Whole Brain Thinking Model. This innovative diversity training strategy will be led by Marian Vasser, assistant vice president for inclusive excellence, and 15 individuals from throughout UofL who will become certified trainers in the IDI model. This fall, the President's Cabinet and the Council of Academic Officers will participate in diversity training exercises with one of the nation's leading experts in strategic diversity leadership, Damon A. Williams, Ph.D.
The DEI division also is ramping up efforts to reach both current and future students. Through the new Inclusive Excellence Scholars program, Gill is engaging with UofL alumni from various disciplines who will participate in week-long mentoring with students, offering expertise on the global competencies that are needed for workplace success. Similarly, a newly formed Corporate Chief Diversity Officer Advisory Board includes chief diversity officers from several regional and national companies to connect with students for mentorship, internships and co-ops.
Other efforts to impact future Cardinals involves a partnership with Jefferson County Public Schools (JCPS) to host the Explore Pathways event this fall, providing more than 1,000 JCPS students, many of whom are Pell Grant eligible, an opportunity to explore education and career options. The one-day event at Cardinal Stadium will provide youth a chance to visit with UofL colleges and unit representatives.
Among the most intensive DEI effort will be the new Cardinals Rising initiative, a program open to all, that will reach young men of color in grades 7-12. Organized by Brandyn Bailey and Daquarius Mahone in the DEI office, Cardinals Rising collaborates with local middle and high schools. Counselors from each of the schools will help identify youth who would benefit from this program.
"The earlier we can reach young people, the more impact we can have. These are bright students, but their energies may be misapplied. We want to invest, pour into them and help them understand they can be anything they dream to become," Gill said.
The program aims to bring youth to campus, introducing them to the college-going culture, along with involvement of their parent or guardian who also will have opportunities to learn about financial literacy and financial wellness, educational advancement and careers. Parents and guardians will sign an agreement, committing to help their child succeed by encouraging their studies and building life skills, along with becoming immersed themselves in the Cardinals Rising program. The DEI division is in process of seeking grant funding to help support this initiative.
"Cardinals Rising will change the lives of the students and create a ripple effect that will impact the entire family toward generational wealth. UofL will be a leader in graduating first–generation, Pell-eligible students," Gill said.
Source: Changing lives is the aim of UofL's new diversity, equity and inclusion initiatives (UofL News, Feb. 15, 2023)