SPHIS Home » News » Two-Star U.S. Army Major General (Ret.) hosted leadership seminars at SPHIS
Two-Star U.S. Army Major General (Ret.) hosted leadership seminars at SPHIS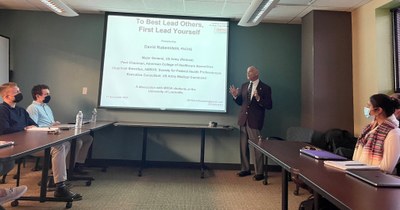 On Veteran's Day, SPHIS was honored to host retired Army Major General David Rubenstein, who provided healthcare leadership training and coaching for faculty, staff, and students in the MS in Health Administration (MSHA) Program and the Dept. of Health Management and Systems Sciences (HMSS). Rubenstein currently serves Army Medicine as an executive mentor and shares his leadership lessons as a public speaker and non-profit board member.
Lee Bewley, PhD, FACHE, Associate Professor, Director, Health Management Programs, Dept. of HMSS, organized the visit and itinerary. Dr. Bewley is a retired Army Lieutenant Colonel and served alongside Major General Rubenstein at the Army Medical Department Center and School at Fort Sam Houston, Texas where Rubenstein was the Commanding General. They are both alumni of the Army-Baylor University MHA Program and Fellows of the American College of Healthcare Executives.
"Major General Rubenstein, one of our country's foremost healthcare leaders and professional health administrators, extended his profound legacy of leadership development by providing four separate, focused sessions to our faculty, staff, executives in residence, and MSHA students," Dr. Bewley stated.
Rubenstein lectured on leading through change and developing a leadership philosophy. He also facilitated a two-hour town hall that covered topics such as professional presentations, case study competitions, job interviews, resumes, and leading to ensure diversity, equity, and inclusion. Marie Blevins, first year MSHA graduate student, commented on the day's events: "Wonderful experience! I appreciate learning from both [Major General Rubenstein and Dr. Lee Bewley]!"
Major General Rubenstein is a graduate of Texas A&M University and the Army War College. He served eight years as an associate professor of Health Administration at Texas State University. He is a board-certified healthcare executive who is a past Chairman of the Board of Governors of the American College of Healthcare Executives. In addition to serving as the Army's Deputy Surgeon General and Chief of the Medical Service Corps, Rubenstein is a decorated military officer and spent 12 of his 35 Army years in command. He was the Commanding General of the Army Medical Department Center and School and Commanding General of the Army's Europe Regional Medical Command.
Rubenstein is listed in six Who's Who publications and was twice included in Modern Healthcare's list of the 100 most influential people in Healthcare. Among his numerous honors, Major General Rubenstein received the highest award presented by the American College of Healthcare Executives, its Gold Medal. He earned the Outstanding Federal Healthcare Executive Award from the Association of Military Surgeons of the United States and the inaugural US Army Medical Service Corps Mentor of the Year Award.
SPHIS was grateful to have such a high-caliber speaker travel to meet with our faculty, staff, and students. Major General Rubenstein wrote of his experience on LinkedIn, "Thank you for the honor of spending time with your case competition team, then your faculty, then twice with your MHSA students. The next generation of health and healthcare executives you and your colleagues are developing will make a positive difference."
Connect with Major General Rubenstein on LinkedIn.