SPHIS Home » News » Study Examines Smoking and Smoking Cessation During Pregnancy
Study Examines Smoking and Smoking Cessation During Pregnancy
September 15, 2017
Dr. Anne Baber Wallis, Ph.D., M.H.S., associate professor in UofL's Department of Epidemiology and Population Health, is the senior author on a study published in the August 2017 issue of the Journal of Community Health that examined smoking and smoking cessation during pregnancy. This cross-sectional analysis of study data focused on factors related to smoking and quitting to better target interventions among pregnant women.
According to Wallis, Romania has among the highest rates of smoking in the world. This study recruited women from six hospital-based prenatal care clinics in Romania. Approximately 2,300 women in total were followed from pregnancy through delivery.
At the time of pregnancy, 28% of the women in this study smoked; half of those quit by the time of the interview. They study revealed those who quit had higher overall socioeconomic position, were more likely to be urban, reported less generalized anxiety, and had more social support.
This is the first publication from the MAIA project, a five-year study funded by the Romanian Ministry of Education via funds from the European Union, the European Science Foundation, and the National Science Foundation.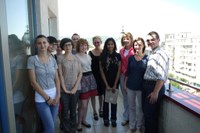 Wallis has known her co-authors for over 10 years. In 2006, she began working with Razvan Chereches, who is the founder and director of the Cluj School of Public Health (CSPH). 
She has worked with the other three authors, Oana Blaga, Alexandra Brînzaniuc, and Ioana Rus, since they were undergraduates at CSPH. Blaga, Brînzaniuc, and Rus have each since earned masters' degrees.
"I am so proud of them. This has been one of the longest and best collaborations of my career. It is unusual to start with one group of young students and see them grow and remain in the field," she said.