SPHIS Home » News » Student Op-Ed: "Take Action or…Die!"
Student Op-Ed: "Take Action or…Die!"
By: Jason A. Deakings, PhD Student, Department of Health Promotion & Behavioral Sciences; President, SPHIS SGA
"I am sick and tired of being sick and tired!" - Fannie Lou Hamer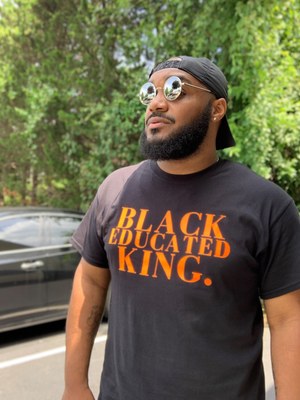 The proverbial "s*#t" has hit the fan! I know that we are all sick of talking about COVID-19, but I believe that COVID-19 has forced people to sit, be still, and witness the continued injustices that plague people of color, specifically, Black people in the United States.To belong or identify with a population that is seated in privilege is to voluntarily and even involuntarily ignore the oppression and trauma experienced by Black people in this country. This sudden charge and outrage towards social injustice by White 'allies" is problematic in its timing, however, necessary to move the needle towards equity. Many scholars have argued on whether or not it is the responsibility of the oppressed to educate the oppressor on their mistakes, oppressive experiences, and manage the pain of the oppressor when realizing their wrongfulness. Whatever the case, 2020 has caused people from of all stations in life to scream the phenomenal Fannie Lou Hamer's epic quote from 1964 when sitting in front of the Credentials Committee of the Democratic National Convention in Atlantic City. Discrimination of any kind, in any form, is wrong and folks are tired of it! Although the threat has remained throughout time, even more so now has the population, specifically Black people, realized how crucial it is stopping these injustices because it is a matter of LIFE and DEATH!
Similar to the majority of students in the public health field, I am extremely concerned with the social determinants of health and the disproportionate negative impact they can have on people of color in this country. Black lives and Black bodies, historically and presently, have not mattered in the U.S. From Trayvon Martin, to Louisville's very own Breonna Taylor, the deaths of INNOCENT Black people have been wildly contorted in media and communications to be almost a deserved end of life sentencing. As James Baldwin said, "To be a negro in this country and to be relatively conscious is to be in a rage almost all the time." I was enraged, I am currently enraged, and so are many other students who are relatively conscious! I, along with my peers, searched for ideal and helpful ways to be involved in the movement and fight for justice without being problematic and being a distraction. Protests, seminars, panel discussions, community meetings, nothing was off the table for consideration. We not only wanted to voice our frustrations of the trauma that the lack of justice caused the community, but we also wanted to lend our privilege of education to the struggle! Where can we fit? I'm not from Louisville, Minneapolis, Georgia, but I shared a lived experience with people in those communities of being Black in America! Their lost loved ones could have easily been my own! Therefore, it was never a question of "Why get involved?", the better question was "Why wouldn't I?".
After receiving an MSPH from Meharry Medical College, and now my experience as a doctoral student here at the University of Louisville, I realized the field of public health needs less talk and more action! Less blame and more action! We talk the talk of social justice and system transformation, but when it's time to take action and use our knowledge to reform institutions, nothing happens! Why do we exist then? I am not denying the advancements and innovations in public health that have benefited the population across demographic distinctions. However, I am challenging the field of public health to go further and truly seek and obtain social justice. Grassroot and community work has ignited my love for public health and the positive impact it can have on the population at large. Frequently, in my public health education I have heard that the best way to learn is in practice, and as a student I haven't often gotten the opportunity to practice! This experience has opened my eyes to new opportunities within the field and provided me with a kickstart motivation piece to continue the education process, despite the hurdles that come along with being a Black student at a predominantly white institution. 
Ultimately, from my participation in anti-racism activities, I would like to see sustained change! In addition to violent crimes against Black people, education, housing, food justice and access to resources are issues that need to be addressed during this time of cultural unrest and beyond! With the racist/cultural and disease pandemic happening concurrently, foundational issues that were present in this country's creation (i.e. RACISM) have been exacerbated and the current public outcry, resistance WILL NOT STOP! While I have chosen to protest, be vocal, be present on the street and in the Louisville and larger Black communities, I also realize that not everyone can serve in that capacity, so there is always opportunity to serve the movement in a number of ways, and I attempt to share that with as many students as I can! Included below are some organizations that are doing real work to stop the imbalance of health and equity for Black people in Louisville. Systemic oppression and Racism, along with any other public health issue that we choose to attack, requires a multi-level approach to illicit positive outcomes! The work is not done, lives are still being lost, injustices are still taking place! My choice is to take action, because I refuse to let myself or my community die!
Black Lives Matter – Louisville http://www.blackliveslouisville.org
No Justice No Peace – Louisville https://www.facebook.com/groups/575230786763297/
Change Today, Change Tomorrow https://change-today.org
Louisville Community Bail Fund https://actionnetwork.org/fundraising/louisville-community-bail-fund/
Black Market Kentucky https://www.facebook.com/BlackMarketKY/