SPHIS Home » News » Student Research - Spring 2021
Student Research - Spring 2021
Article in Environmental Research
Katlyn McGraw, doctoral candidate in the Dept. of Environmental and Occupational Health Sciences, had an article published in Environmental Research in February 2021 titled, "Exposure to Volatile Organic Compounds – Acrolein, 1,3-Butadiene, and Crotonaldehyde – is Associated with Vascular Dysfunction." Read more: https://doi.org/10.1016/j.envres.2021.110903
MSHA team earns "Top 16" finish at Cleveland Clinic Case Competition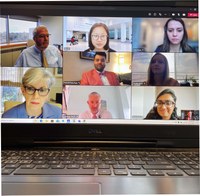 The MSHA Cleveland Clinic Case Study Competition Team earned "National Quarter-Finalists" status (top 16) among 51 teams representing top graduate healthcare management programs from across the country. The SPHIS team included first-year MSHA students, Vanesa Mujin, Devika Gopan, Marriah Foss, and Charles Sowards. They conducted case analyses and presentations focused on improving clinical operations in a post-pandemic marketplace. The competition was conducted virtually over multiple weeks and stages of analysis.
The Cleveland Clinic Case Competition is designed to offer graduate level students in health administration the opportunity to apply their coursework to a real-world situation and develop recommendations to a team of executives at an internationally recognized health system. Participants were given a weekend to develop recommendations to be reviewed by a team of Cleveland Clinic physicians and administrators.
Undergraduate students speak at NIH/NIEHS national symposium
SPHIS senior Selma Podbicanin and UofL alumnus Isaiah Burciaga '20 gave three-minute lightening talks, with two minutes for Q&A, at a national symposium hosted by the National Institutes of Health (NIH)/National Institute of Environmental Health Sciences (NIEHS) in February 2021. The session was titled "Impact of Environmental Exposures on the Microbiome and Human Health." Podbicanin will graduate in May 2021 and both have plans to enter doctoral programs in the fall.   
Research Awards
Sonali Salunkhe, MD, MPH, doctoral student in the Dept. of Health Management and Systems Sciences, placed second at the UofL Graduate Student Regional Research Conference in March 2021.
---
Nana Ama Aya Bullock, MPH, doctoral candidate in the Dept. of Health Promotion and Behavioral Sciences, received an Honorable Mention from the KPHA 2021 Annual Meeting for her poster titled, "Awareness, Practices and Concerns about Prescribing PrEP for HIV Prevention among Medical Providers in Louisville." Posters were judged for originality, study design, analysis, epi methods and public health impact.