SPHIS Home » News » Staff Spotlight: Sherry Duffy
Staff Spotlight: Sherry Duffy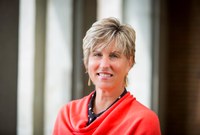 SPHIS Director of Strategic Initiatives and Commonwealth Institute of Kentucky (CIK) Deputy Director Sherry Duffy retired on June 30, 2021, after 13 years at UofL. Prior to coming to SPHIS in 2015, Ms. Duffy was the Associate Director for Community Relations in the University of Louisville Organizational Leadership & Learning program. She received a BS in Management and an MS in Human Resources from the University of Louisville.
Ms. Duffy was expert at seeking opportunities for growth and connection. She was primarily responsible for the operations of the SPHIS research office and CIK, overseeing development and maintenance of the infrastructure related to administration, financial management, communication, community engagement, and content expertise. These duties entailed cultivating relationships with stakeholders, government agencies, funding organizations, faculty, and community partners, as well as creating organizational and marketing strategies for CIK and SPHIS.
When asked what she felt was her most meaningful accomplishment, she said obtaining Medicaid data for State University Partnerships (SUPs). SUPs offer a unique funding opportunity, leveraging university funds to receive a federal match, while supporting state government to make informed policy decisions around its Medicaid program. Ms. Duffy remains enthusiastic about the "kaleidoscope of transdisciplinary research" happening at SPHIS. She hopes the school continues to build upon relationships and advance population health.
Ms. Duffy's colleague and former CIK supervisor, Monica Wendel, PhD, reflected on Ms. Duffy's significant contributions: "It has been my privilege to work with Sherry over the past six years, and the Commonwealth Institute of Kentucky would have never gotten off the ground without her. Her vision and relationship-building skills, as well as her existing relationships across diverse sectors, enabled her to recognize unique opportunities where CIK could add immediate value for our partners and community."
In addition to her various responsibilities at SPHIS, Ms. Duffy taught part-time in the Organizational Leadership and Learning program in the College of Education and Human Development. She said teaching allowed her to fulfill a passion of helping adult learners achieve their academic goals. She taught: HR Fundamentals, Needs Assessment, Project Management, Workplace & Information Ethics, and Coaching and Talent Management. The course "Diversity in the Workplace" was her favorite because each student brought a unique voice to the classroom to share experiences. She said, "We all learned from each other."
Outside of SPHIS, Ms. Duffy was very involved with the UofL Commission on the Status of Women (COSW). She's had an amazing journey and was able to serve in many different roles, including volunteer, general member, chair of the communications committee, member of the executive committee, chair, and past chair. "COSW has filled my soul with knowledge, love, compassion, empathy, and camaraderie. The commissioners have shared their journeys with me, included me in difficult conversations, taught me how to be a fierce advocate and how and when to use my voice for change. It seems the more I learn about gender inequities, the less I know."
In reflecting on her time at UofL, Ms. Duffy said: "The University of Louisville has been a large part of my life for the past 13 years, with a mission of serving students and research… I appreciate my time here and feel honored to have worked with so many talented individuals."
As for her plans for retirement, Ms. Duffy summed it up this way: "It is not my intention to ride off into the sunset, consider this a personal sabbatical year!" Sherry is dedicating time to learning new skills, studying Spanish, and plans to spend a month or two in Spain with her husband. Her endless energy and creative problem solving is also in play as she considers future opportunities.   
Ms. Duffy finds great inspiration in the following quote and sees a parallel to her own journey seeking "a renewed sense of energy, new vistas of possibility and creativity."
"There is a beautiful complexity of growth within the human soul. In order to glimpse this, it is helpful to visualize the mind as a tower of windows. Sadly, many people remain trapped at the one window, looking out every day at the same scene in the same way. Real growth is experienced when you draw back from that one window, turn, and walk around the inner tower of the soul and see all the different windows that await your gaze. Through these different windows, you can see new vistas of possibility, presence, and creativity. Complacency, habit, and blindness often prevent you from feeling your life. So much depends on the frame of vision -- the window through which you look." -- John O'Donohue
Dr. Wendel summarized what many of Ms. Duffy's colleagues felt about her departure saying, "Personally, I appreciate that Sherry always took time to celebrate the wins and speak encouragement in the learning times. I'm a better person for knowing her, and I hope the next year brings her much joy, laughter, and adventure!"