SPHIS Home » News » SPHIS Undergraduate Student Spotlight: Madyson Partenheimer
SPHIS Undergraduate Student Spotlight: Madyson Partenheimer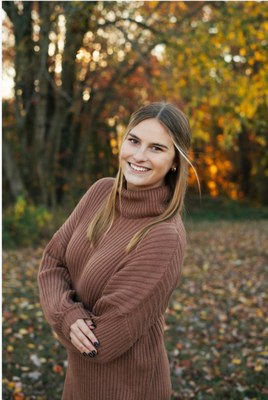 During the first semester of her sophomore year, then nursing student Madyson Partenheimer realized that although she loved healthcare, going to nursing school was not the right fit. She was guided to the field of public health by philosophy professor, Dr. Lauren Freeman, since she was more interested in policy and sustainability efforts. Once she realized the impact she could have on individuals without providing direct care, and the ability to make long lasting changes in communities and groups that desperately need it, she decided to pursue a degree in public health.
Now in her senior year at SPHIS, Madyson expects to graduate with a BS in Public Health in May 2023. She said public health allows her to view the world in a unique and compassionate manner.
Madyson is already applying the public health skills and knowledge she is learning in the classroom directly to her job at Berry Global where she leads commercial sustainability activities in the Hygiene, Healthcare, and Specialties division . With public health top of mind, she strives to develop and implement sustainable changes to improve her team members and communities' health.
No day looks the same in her role at Berry Global. Some of her daily tasks include creating marketing collateral, conducting internal training/improvements, introducing processes/products, and continuously developing and implementing more sustainable practices throughout the company. She also helps the commercial team engage customers on sustainable products. "I try to help these two audiences see beyond the difficulties and imagine a sustainable future. I try to do this by revolving the conversations not only around how we can make sustainable changes in our everyday products, but how we can engage in more responsible, sustainable manufacturing processes as a Fortune 500 company," she explained.
When asked if she had any advice for students who are just beginning their public health journeys, she said, "Embrace public health for what it is. Public health will lead you down so many different career paths and open your eyes to topics and passions you may have never explored, and my advice to you all is to explore every single one. I have learned so much throughout my time at SPHIS because I tried not to leave one stone unturned and tried just about all I could. I invite all students to do the same and not waste a single minute of their time in this school."
Connect with Madyson on LinkedIn to hear more about sustainable innovations in the manufacturing world.