SPHIS Home » News » Q&A with health management program director, Dr. Lee Bewley
Q&A with health management program director, Dr. Lee Bewley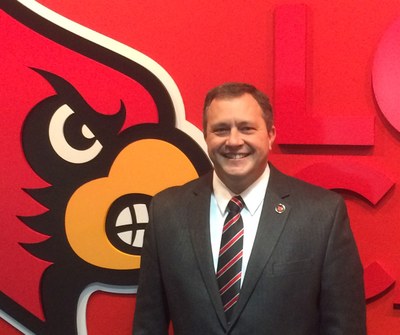 As of July 1, Lee W. Bewley, PhD, FACHE, is the new program director of health management programs for the Department of Health Management and Systems Sciences. We wanted to take this opportunity to talk with Dr. Bewley about his thoughts on teaching, leadership, and service. We also got a sense of how powerful it is to come home.

1. Which HMSS academic programs are your responsibility? I am the director of the MS in Health Administration (MSHA). As program director, I teach and advise students and am also responsible for curriculum development, marketing, quality, and operations. I'm also leading development of the executive track of the MSHA, which will be an online program launching as soon as fall 2020. Further down the road, we expect to offer an undergraduate major and/or minor in health administration.
2. How do you describe your teaching philosophy? For me, teaching is not just philosophical. It's about developing competent leaders that are able to effectively manage healthcare organizations and efficiently utilize resources in order to better serve people and communities. I strive to leverage my own leadership and management experience, but also my network of colleagues in the field, to guide and illustrate quality leadership development in our programs.
3. What do you enjoy most about being on faculty at UofL? That's simple – it feels like I've come home. I'm a native of Hardin County so I followed the University of Louisville as I was growing up. Being at the University of Louisville allows me to serve my home through teaching, service, and research. I see great potential of what the university does for the local community and the Commonwealth; furthermore, when I consider the impressive backgrounds and quality of our program faculty, students, and the transformational healthcare environment in our midst for student development, I see a great opportunity for UofL's health management programs to become national leaders in our field.
4. How does your work experience prepared you for your current position? My health management experience ranges from clinics to the C-suite. I have served in the most advanced academic medical centers, but I have also led healthcare professionals in some of the most spartan environments in the world. I am sensitive to what parts of the curriculum should be emphasized. I strive to keenly focus on what is relevant to our students and what will serve them well in the workforce as leaders of healthcare organizations. I also provide examples to students so they can have a basis for understanding how they may employ resources and learn from real-world successes and failures. Additionally, I'm able to dialogue with students about career opportunities. I have a rich network of colleagues that I can draw on to stay current and support my students in giving access to additional development opportunities.
5. Would you tell us about your research interests? My primary research interests are currently focused on how we may most effectively develop healthcare leaders taking into consideration varying developmental needs. The primary research streams of my interests include Human Capital, Leadership, Mentoring, Career and Life stages. Additionally, I have a strong interest in competency-based education (CBE) and associated pedagogy. These research interests are genuine life-long personal and professional areas of focus, but also practical lines of research to support continuing development and enhancement of our health management programs at the University of Louisville.
6. What are your major service commitments? Currently, I am the president-elect for the Kentucky Chapter of American College of Healthcare Executives (ACHE). In summer 2020, I will begin a two-year term as president.  The prime basis for the ACHE to exist is to build and develop a society of healthcare executives committed to improving the health of their communities. My aim is to grow the number of executives in our state and help them maintain and advance their competencies to serve their communities. In Kentucky, we are reinforcing and advancing the case for why ACHE is a valuable career investment for emerging and current healthcare leaders as well as serving the human capital development needs for healthcare organizations.
7. What are your professional goals? My goal is to create value by leading and managing higher education programs in healthcare management that will enable more efficient and effective resource utilization and higher levels of societal health. I also want those I work with, especially students and my teaching colleagues, to be happy and thrive in their lives and careers and positively impact the world around them. Looking into the future, I want to continue my career in higher education and eventually be part of administration as chair, Dean, or perhaps Provost. I have always been interested in the idea of serving my community an elected political official, but at this point, I judge that my efforts are best invested in directly developing leaders through higher education.
8. What personal facts would you want people to know? I'm from Kentucky, and we have a working family farm in Hardin County near the town of Big Spring where my parents, Don and Paula, and my brother, Joe, and his wife, Traci, currently live. I'm married to a Kentucky schoolteacher, Stacy. Stacy's career includes service as a state social worker, high school special education teacher, Kentucky Department of Education Resource Specialist, and now special education consultant in Bullitt County; she is also a doctoral candidate in UofL's College of Education and Human Development. We have four kids, Christopher, 20, Ashley, 18, Brittany, 16, and Alexander, 14. I graduated from Meade County High School and went from there to the Virginia Military Institute where I majored in Business and Economics. I completed my MHA at Baylor University and PhD at the University of Alabama at Birmingham. I served 23 years in the Army Medical Department, which included leading a combat support hospital during a combat tour in Iraq. I spent time in the Middle East, Central America, and Europe, but most of my assignments were in Kentucky, Alabama, and Texas. Throughout my military career, I always returned home when I could, and I am happy to finally be home.