SPHIS Home » News » Meet Executive-in-Residence Mike Rust
Meet Executive-in-Residence Mike Rust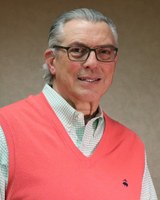 SPHIS would like to welcome Michael Rust, President Emeritus of the Kentucky Hospital Association, as an Executive-in-Residence (EIR) in the Dept. of Health Management & Systems Sciences
Mike is excited for his position at SPHIS and hopes to be a "super mentor" and resource for students to learn strategic thinking skills and discuss ideas, careers, and policy issues. He said, "In this role, I believe I can help students learn how executives develop their approaches to leadership as well as help them forge a pathway as they start their career."
A native of West Virginia, Mike earned his bachelor's degree from Glenville State College. After graduation, he and his wife Nancy, moved to Knoxville, Tennessee, where he earned a Master in Public Health degree.
He began his hospital career as the Associate Administrator of a 56-bed hospital in New Martinsville, West Virginia. He eventually became administrator and oversaw the completion of a new, 72-bed hospital. In 1980, he became Vice President of Operations of the Thomas Memorial Hospital in South Charlestown, West Virginia.
In 1986, Mike left West Virginia and joined the staff of the Florida Hospital Association (FHA). He began as the Vice President of Finance and advanced to the FHA's Senior Vice President position, where he coordinated regulatory, advocacy and representation positions of the Association. He also served as the Chief Operating Officer for all four of the FHA's for-profit subsidiaries.
In January 1996, he became the third President of the Kentucky Hospital Association (KHA). During his tenure, all hospitals in Kentucky continuously held membership in the KHA. He worked hard to develop a strong membership structure to assure all hospitals have a voice in the Association. Under his leadership, KHA's subsidiaries, KHA Solution's Group and the Kentucky Hospital Research and Education Foundation grew; and a third subsidiary, the Kentucky Institute for Patient Safety and Quality, was added.
He said one key to success for him has been following the advice that his father gave him when he started his career to be a man of integrity and the CEO or "Chief Example Officer" of the company. Mike also follows the M, 2L, and C doctrine:
Find a Mentor and be a mentor to others
Always continue to Learn and be a good Listener
Care about others and the people you work with. Don't always do what will work, do what is right.
In addition to his role at SPHIS, Mike is an active supporter and member of numerous boards through Kentucky and West Virginia. He serves on the boards of Glenville State College, Frontier Nursing University, Kentucky Organ Donor Affiliates, Appalachian Regional Healthcare, and Republic Bank. Since recently retiring from KHA, Mike enjoys reading, flying, and riding horses in his spare time. However, he said the true highlight of the day is picking up his two grandchildren from school.