SPHIS Home » News » Faculty Spotlight: Q&A with Dr. Gary Hoyle
Faculty Spotlight: Q&A with Dr. Gary Hoyle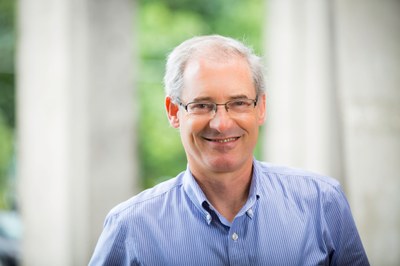 Gary Hoyle, PhD, Professor, Dept. of Environmental and Occupational Health Sciences, retired and earned the distinction of Emeritus Professor on June 20, 2021, after nearly 14 years at SPHIS.
Dr. Hoyle received a BA from Johns Hopkins University and a PhD in Biochemistry from Duke University. He completed postdoctoral training at the University of Pennsylvania and became faculty at Tulane University in the Pulmonary Section of the Department of Medicine in 1993. Dr. Hoyle moved his laboratory to the University of Louisville in 2007 and joined the Department of Environmental and Occupational Health Sciences (EOHS) as professor. He held a joint appointment with the Dept. of Biochemistry and Molecular Biology in the School of Medicine and served four years as acting chair for EOHS. As acting chair, he guided and supported the evolution of EOHS course offerings to include the development of Cardinal Core courses and minors while also revising the framework for the doctoral program.
Dr. Hoyle's research interests have been focused on understanding how inhaled agents that are encountered in the environment or in occupational settings injure the lung and how the lung is repaired after injury. He provided frequent advice for pulmonary and environmental health topics to other researchers and was instrumental in the acquisition of NIH research center grants as well as investigator-initiated projects.
Colleague Rachel Neal, PhD, Associate Professor, Dept. of EOHS, was asked to comment on Dr. Hoyle's tenure at UofL. She said, "Dr. Gary Hoyle has contributed extensively to the senior leadership, research programs, and support of academic programs of the Department of EOHS. He was instrumental in the success of our faculty, students, and staff due to his dedication to excellence in environmental health sciences. We are thankful he will continue as an Emeritus Professor and wish him well as he begins retirement."
We asked Dr. Hoyle to reflect on his time at SPHIS, share lessons learned, and describe his plans for retirement:
What is your fondest memory while working at UofL SPHIS?
While at UofL SPHIS, I have been blessed to have been able to work on research projects with a number of outstanding people in my laboratory as well as other collaborators at SPHIS and UofL. I would say my fondest memories center around making new scientific discoveries working alongside a team of wonderful people, as well as watching trainees and younger colleagues develop as research scientists.
What do you feel was your most meaningful work at SPHIS and what work are you most proud of?
We characterized repair processes in the lung after chemical injury and developed a treatment that in laboratory models was successful in preventing long-term damage to the lung after an acute injury. I hope that this treatment will ultimately become the standard of care for patients with lung injury from irritant gas inhalation.
What did you enjoy most about working in your lab at UofL SPHIS?
The people! The enjoyment of discovering new things. Getting creative to solve problems.
What message would you like to share with the public health alumni you worked with?
Thank you so much for your dedication, hard work, creative insights, and help along the way that contributed to an enjoyable career.
Do you have a message for students just starting out? What do they have to look forward to as public health students, researchers, and graduates?   
When I was starting out, I don't think I had a good appreciation of how important communication skills are for a scientist.  I thought I could just work in the lab and get a bunch of good results, and that would make me a good scientist.  But the results don't really mean much unless they can be communicated to the appropriate audience, be that other scientists, health care practitioners, or the general public.  Also, no one will be giving you the resources you need for your research or whatever public health endeavor you are working on unless you can effectively communicate why it is important and why you are the one who should be doing it.  So, in addition to building your discipline-specific skills, make sure you are working on your ability to write and speak effectively about your work.  Those skills will translate into whatever field you find yourself in.
What are your plans for retirement?
Spending time with family and grandkids, hiking/camping, gardening, volunteer work, and try to get good at golf.