SPHIS Home » News » SPHIS Student & Alumni Covid-19 Response
SPHIS Student & Alumni Covid-19 Response
Stories from the front line of COVID-19
We reached out to alumni to get an insider's view of what it is like to work in a health department during a current public health crisis. Read about their unique COVID-19 experiences. We are grateful to the following alumni who took time from their hectic schedules and responded:
Brittany Saltsman Bell, MPH, CPH, 

Senior Epidemiologist and Clinical Public Information Officer, Bullitt County Health Department

Taylor Ingram, MPH, 

Manager, Policy and Innovation, Louisville Metro Department of Public Health and Wellness

Matt Rhodes, MPH, 

Director of Operations, Louisville Metro Department of Public Health and Wellness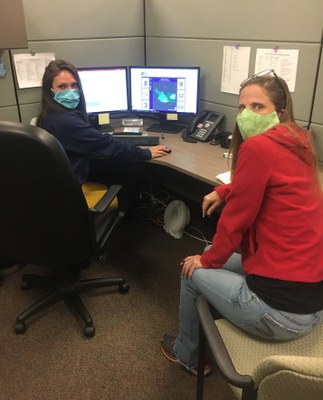 Doctoral students manage and analyze COVID-19 case data for district health department  
Lyndsey Blair (left) and Johnnie Newton (right) are PhD students in the Department of Epidemiology and Population Health. They are also involved in local-level COVID-19 response as employees with the Lincoln Trail District Health Department (LTDHD) that serves Hardin, Larue, Marion, Meade, Nelson and Washington counties. They are involved in data management, data analysis, and summarizing/presenting information pertaining to COVID-19 cases for LTDHD. Johnnie and Lyndsey have collaborated on the creation of a database used by investigators to follow cases and track contacts. They have created and maintained the epidemic curve and analyze case data for descriptive demographic statistics. They also created maps using ArcGIS displaying district cases. Their maps have been used for spatial analysis and for the creation of a COVID-19 Dashboard, which is used for both internal analysis and for sharing up to date data with the community.  
Students and alumni assist LMPHW with contact tracing
SPHIS has partnered with the Louisville Metro Department of Public Health and Wellness (LMPHW) to assist with efforts to increase local capacity for contact tracing. A total of 18 current students and four alumni were trained on April 21 or April 23 to serve as case investigators and case callers with the LMPHW's COVID-19 Epidemiology Group. SPHIS student volunteers are currently enrolled in public health bachelor's (10), master's (4), doctoral (3), and certificate (1) programs.
Contact tracing is a key disease control measure that health departments are using to prevent further spread of COVID-19, according to the CDC's coronavirus website. In contact tracing, public health staff and volunteers work with a patient to help them recall everyone with whom they have had close contact during the timeframe while they may have been infectious. Public health staff then warn these exposed individuals (contacts) of their potential exposure as rapidly and sensitively as possible. Read more about contact tracing.
We are proud of the SPHIS students and alumni who are volunteering their time, gaining experience, and serving our community at this critical time.
Bachelor's

A'Ryan Jones
Brittany Blair
Elizah Wilson
Eriqc Lumzy
Justin Beeber
Leah Bookout
Marissa Wetzler
Maymie Owens
Olivia Pendleton
Michael Allgood

Master's

Abedgboyega Akenroye (MPH - Epidemiology)


Delana Giley (MPH - Health Behavior)
Molly Parsch (MPH - Epidemiology)


Felicia Pugh (MS - Epidemiology)

 

Doctoral

Jack Pfeiffer (PhD - Epidemiology)


Lindsay Woods (PhD - Epidemiology)


Sivarchana Mareedu (PhD - Environmental Health)

 

Certificate

Maryam Zahin

Alumni

Deziree Goff


Maria Shields
Mohamed Abukar


Philip Boada, MPH