SPHIS Home » News » Public health & policy: UofL students and alumni meet virtually with Congressman John Yarmuth
Public health & policy: UofL students and alumni meet virtually with Congressman John Yarmuth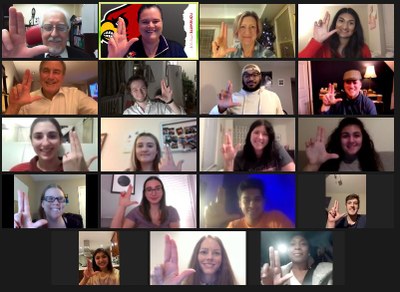 One week after the riots at the U.S. Capitol on January 6, Congressman John Yarmuth met virtually with UofL students and alumni and discussed pressing public health issues such as COVID-19, Louisville's response to the pandemic, and racism.
Student leaders in the School of Public Health & Information Sciences (SPHIS) were instrumental in organizing the event. Arushi Gupta, President of the UofL chapter of the Kentucky Public Health Association, helped organize the event and served as a moderator. She said opportunities like this allow her to apply the knowledge she has gained at UofL to what is happening in society today.
"Being able to actively participate in a discussion with Congressman Yarmuth gives me a deeper understanding of the intersection of public health and policy, while also allowing me to understand how public health has an impact on current events"
As we approach the one-year mark of the start of the COVID-19 pandemic, many leaders, including Rep. Yarmuth, recognize investments in public health are vital to the health and safety of the U.S. residents. Congressman Yarmuth explained, "As the ongoing COVID-19 pandemic has shown us, public health impacts nearly every single element of our society, from our own personal safety and wellbeing to jobs and our economy. As we look toward the future, we need to be sure we're making strong investments in preparedness, in public health education, and in having the necessary health infrastructure and workforce in place to be able to meet the growing demands."
Dr. Craig Blakely, UofL SPHIS Dean, expressed his gratitude to Rep. Yarmuth for taking time out of his demanding schedule to meet with students and alumni.
"It's heartening to witness our U.S. Congressman take 90 minutes out of his day, with everything going on in Washington D.C., to meet digitally and interact with students to discuss politics and the implications for public health following the change in administration," he said.
Congressman Yarmuth added, "It was wonderful to speak with Dean Blakely and his students and hear their perspectives on policy and practice, where the two meet, and how we can all work together to improve care."