SPHIS Home » News » UofL's Health Equity Innovation Hub leader unpacks more about the new venture
UofL's Health Equity Innovation Hub leader unpacks more about the new venture
By Julie Heflin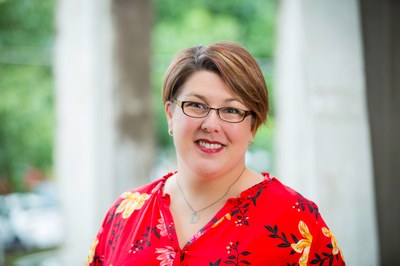 The University of Louisville recently announced the creation of the Health Equity Innovation Hub, an integrated, multi-disciplinary collaboration among Humana, The Humana Foundation and the university. The Hub is funded by a potential total investment of $25 million, including $10 million from UofL, $1.5 million from Humana and up to $13.5 million from The Humana Foundation. The investment by The Humana Foundation represents one of the largest single donations in UofL's history and is contingent upon progress against the collaboration's objectives and achievement of established milestones.
Led by UofL's Monica Wendel, a national thought leader in health equity, the Hub focuses on groundbreaking research, community engagement, talent development, entrepreneurship and innovation, with a focus on health equity and social determinants of health. UofL News reached out to Wendel to gain a better insight into the Hub.
UofL News: How was the idea for the Health Equity Innovation Hub developed? 
Monica Wendel: The Hub is a collaboration between UofL, The Humana Foundation, and Humana Inc. aimed at closing health equity gaps. It became clear that health equity was a shared goal between the organizations. Realizing this shared goal, UofL Executive Vice President of Research & Innovation Kevin Gardner invited me to lead the development of the collaboration. Not long after, Humana's inaugural Chief Health Equity Officer, Nwando Olayiwola, was named and both Humana and The Humana Foundation deepened their existing commitment to working towards equitable health systems for each person and community.
UofL News: Break down for us, please, the main mission of the Hub. 
Wendel: The mission of the Hub is to advance social and health equity for structurally marginalized communities. In recognizing that health outcomes and inequities are driven by social determinants, which in turn are shaped by structural determinants, the Hub is committed to working across multiple levels of social ecology in ways that provide communities made vulnerable equitable access to the resources they need to be healthy and whole. We are doing this by integrating the research power of the university, the resources of industry, the expertise of the community in these issues, and the ingenuity and creativity of innovators and entrepreneurs — especially those who hold minoritized identities — in solving health equity issues.
UofL News: Why is this work so important at this time? 
Wendel: Everyone wants to be healthy, but the choices people make are the choices people have. And we don't all have the same choices – our health care, housing, food and other systems offer more choice and accessibility to some people than others. For Black and brown populations, LGBTQ+ populations, foreign-born populations, rural populations and populations living in poverty, the structures and systems enact and reinforce marginalization that produces health inequities.
It's important here to differentiate between 'disparities' and 'inequities.' Health disparities refer to differences in risk, incidence, morbidity, disability and mortality in various conditions between different groups. Health inequities more specifically identify differences between groups that are unjust, unnecessary and preventable. The structures and systems we create and maintain produce inequities — we as a society are responsible for that. But that also means it can be changed. If it's going to change, we have to change it. Equity will not happen organically.
UofL News: Please describe the research aspect of the Hub. 
Wendel: A key aspect of the Hub is the integration of research, community engagement, innovation, entrepreneurship, strategic relationships and talent development to achieve specific outcomes toward advancing health equity. This integration is both the most innovative and the most challenging facet of the work; because of it, people in Louisville and beyond will thrive.
I have had the privilege of assembling a team of individuals who are rock stars in their respective areas of expertise. But doing things the way they've been done is going to continue to get us what we've got – which is inequity. So, our team is intentionally doing the hard work of not operating in silos of individual areas of expertise, and bringing all areas of expertise to the strategies and activities in each of our workstreams. In that way, we are advancing health equity at multiple levels of social ecology and interconnecting community sectors that likely would not otherwise be connected. Those cross-sector network relationships will transform systems to advance health equity and will endure long past all of us. 
Thanks to the Humana Foundation's gift, the Hub is able to support minoritized researchers and novel health equity research. We put out our first call for research proposals in March, and through a rigorous review process, awarded over $1 million to fund 10 health equity research projects.
UofL News: As a public health researcher, you've worked over 20 years addressing aspects of health inequity and factors related to social determinants of health. How does the Hub build upon what you've learned through your own research?
Wendel: My vision and design for the Hub is grounded in several things I've learned over the course of my career. First, people have a right to self-determination. For minoritized populations, our systems have historically stripped away this right. The people most impacted by health inequities of any kind are the most expert in those inequities, and often have valuable insights and innovative ideas for how to solve them. We must listen and engage the communities affected. Solutions brought in from outside those communities rarely have the intended magnitude of effects.
Second, we must work upstream and downstream at the same time and across sectors — advancing health equity requires organization and strategy. Although the United States has made some gains in health equity efforts, there is still much work to be done in addressing inequities and ensuring everyone has access to resources that support good health. Our downstream interventions must address immediate needs and advance health equity at that level.
But we cannot achieve sustainable gains in health equity unless we also work upstream, with communities that have historically experienced these inequities. For example, inequities in maternal health outcomes for people of color may result from lower quality of care, but they may also result from experience of racism within the health care system. Improving quality of care downstream only addresses part of the problem; if people do not seek care because of distrust of the health care system, they will not benefit from improved quality of care. There must be simultaneous work addressing systemic racism in the health care system. Thus, our upstream interventions must transform systems to reduce health inequities, while downstream, we work to ensure equitable access to health resources. Both of these efforts are necessary, and neither on its own is sufficient.
Third, our interventions must be planned for way beyond the term of a grant. Initiatives intended to advance health equity must not bring needed resources to a marginalized community that then disappear at the end of the grant; this results in real harm to real humans. Any kind of equity work requires intellectual and cultural humility and a conscious intent on doing no harm. There is no substitute.