Diversity
"As the world responds to racial justice upheavals, leaders must ask "What is diversity, equity, and inclusion to generationally
oppressed humans?" Those buzzwords are useless if people allow white supremacist culture to thrive. At the University of Louisville School of Public Health & Information Sciences, we're incorporating liberation into our work; that means challenging ourselves to suffocate supremacist paradigms and prioritize policies and practices that support our most structurally marginalized people in creating their own wellsprings of life. Join us as we strive to reach our vision of public health."      --Trinidad Jackson, Assistant Dean for Culture & Liberation
Diversity Mission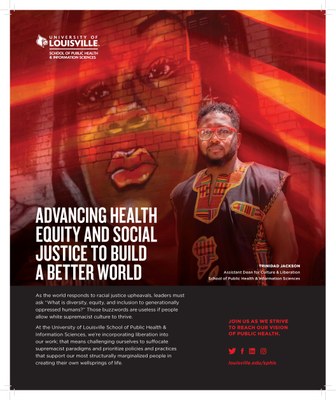 The diversity mission of the School of Public Health and Information Sciences is to create an environment in which each person can achieve his or her full potential independent of race, ethnicity, gender, gender identity and expression, sexual orientation, age, socioeconomic status, disability, religion, national origin, or military status. The school holds that diversity encompasses.
The school holds that diversity encompasses:
Human diversity, characterized by physical appearance, personal characteristics, life experiences, and preferences.
Cultural diversity, characterized by beliefs, attitudes, values, customs, history, geography, and norms.
Research, teaching and service diversity, characterized by academic preparation, theoretical approaches, and community based applications.
The school aims to build a diverse community that is both nurturing and challenging with a philosophy of diversity based on the respect for one another and recognition that each person brings unique attributes, talents, and contributions to the school.
Trinidad Jackson, PhD(c), MS, MPH, is the Asst. Dean for Culture & Liberation for SPHIS.
Racism -- A Public Health Crisis
Read the school's Declaration of Racism as a Public Health Emergency that explains how the disproportionate impact of COVID-19, along with widespread protests for racial justice, is forcing a long overdue reckoning with the history of our country in general and Louisville specifically, and how that history has shaped the systems, policies, practices, collective narratives, and behaviors we exist with today.
Breaking Glass Ceilings: The Black Past, Present, and Future of Academic Public Health
For the first time since the school's inception, a Black woman and man have successfully completed the tenure track trajectory, and are now tenured at the University of Louisville School of Public Health & Information Sciences.
What does this mean for academic research, community-based engagement, and student mentorship? As part of our Cardinal Anti-Racist Agenda, we must publicly explore, celebrate, and learn from the Black brilliance that fertilizes our soil. The Office of Culture & Liberation celebrated National Public Health Week by highlighting OUR Black History in April 2022!
Trinidad Jackson, Asst. Dean for Culture & Liberation; Faculty Member, Dept. Health Promotion & Behavioral Sciences, moderated the panel discussion between Dr. J'Aime Jennings, CHOT Co-Director; Associate Professor, Department of Health Management and Systems Sciences, and Dr. Jelani Kerr. Associate Professor, Department of Health Promotion and Behavioral Sciences. Watch the recording.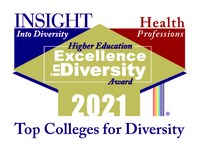 University Resources