Theo Edmonds, JD, MHA, MFA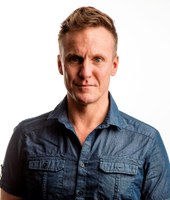 Health Management and Systems Sciences
Adjunct Assistant Professor, Director (Center for Creative Placehealing)
UofL SPHIS
485 E. Gray St., Louisville, KY 40202
Phone: 859-420-7620
Office Hours: By appointment
Theodore.edmonds@louisville.edu
Born and raised in the Appalachian mountain town of Jackson, Kentucky -- same community that is the focus of NY Times Best-seller, Hillbilly Elegy -- Theo is a cultural innovator and healthcare professional who was selected as one of "50 People Changing the Face of the South" by Southern Living Magazine. His work is focused on establishing new value paradigms and mutually-beneficial relationships between the health sector and cultural innovators, artists, social entrepreneurs, corporations, government and emerging philanthropic structures.
Theo is Vice Chair of Americans for the Arts' Private Sector Council, Co-Chair of the Louisville Health Advisory Board's Cultural/Social Impact Committee, and lead design consultant to LGBT HealthLink's work with the CDC to establish a national LGBT Center of Excellence model at the nexus of culture, business and population health. He was co-leader for Louisville's successful 2016 bid to be named a Robert Wood Johnson Foundation Culture of Health Prize winner.


CURRENT PROJECTS
Creative Placehealing
Industry-Engaged R&D Focused on Adapting Public Health Research to Expand Impact of Corporate Social Responsibility/Private Sector-led Social Innovation
-- Engagement Point: Private Sector CSR,DE&I,ERGs
-- Cultural Innovation Focus: Inclusive Economy/Workplace, Social Impact, Measurement, Systems  Change, Supply Chain, and Triple Bottom Line Health Impact (Employee, Consumer, Community), Code-switching, Wearable Biosensors, Health Equity
-- Frame: LGBTQ, POC, Women
Inclusive Innovation Leadership Education, Training & Professional Development
-- Engagement Point: Transdisciplinary Fellowship Model at UofL SPHIS Comprised of Teams of: (1) Creatives/Cultural Producers (2) Health Professionals (3) Private Sector Leaders
-- Representative of Communities: LGBTQ, POC, Women 
-- Innovation Focus: Employee Health, Consumer Health, Community Health, Health Equity
-- Frame: Culture Shift Acceleration and Change Management
Advocacy, Messaging & Policy Innovation
-- Engagement Point: Advertising & Creative Industries
-- Innovation Focus: Narrative Economics, Translating Public Health Research for Storytelling at Scale, Using Big Data/Marketing to Produce Measurable Change
-- Frame: Evolving society's cultural-frame related to "dialogues on opportunity creation" from one of "minority discourse" to one of "talent and inclusion for the benefit of all"
Derby Diversity & Business Summit | Committee Member
Launched in May 2018, the Derby Diversity & Business Summit brings elite Women, LGBTBE, Minority and Veteran Owned Enterprises together to network, develop, and enjoy Derby festivities with Corporate partners seeking to further strengthen their ties with certified firms with strong capacity and scalability.
Creating Healthy Communities: Arts + Public Health in America | Initiative Member
A national initiative designed to accelerate innovation to build healthy communities in alignment with national public health goals. The initiative will expand the intersections of arts, community development and public health through strategic cross-sector collaboration, discovery, translation, and dissemination.
HONORS & AWARDS
Top 10 National Finalist for Americans for the Arts' Robert E. Gard Award, 2018
Americans for the Arts, Top 10 Business-Arts Partnerships in the U.S., 2017 (with Humana, Inc.)
Bingham Fellow, Leadership Louisville, 2016
Robert Wood Johnson Culture of Health Prize, 2016
Americans for the Arts, Top 10 Business-Arts Partnerships in the U.S., 2015 (with General Electric's FirstBuild)