Susan Buchino, PhD, OTR/L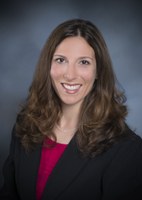 Health Promotion & Behavioral Sciences
Assistant Professor
School of Public Health and Information Sciences
485 E Gray St., Room 216
Louisville, KY 40202
502-852-6441 (office)
susan.buchino@louisville.edu

Background
Susan Buchino, PhD, OTR/L is an Assistant Professor in the Department of Health Promotion and Behavioral Sciences. She serves as a Commonwealth Scholar within the Commonwealth Institute of Kentucky.
As an occupational therapist, Dr. Buchino provided community reintegration rehabilitation services to adults with mental illness, acquired brain injuries, and intellectual disabilities. She has additionally worked with aging individuals and caregivers to employ strategies to enhance safety and quality of life in the home environment. Dr. Buchino's experiences as a clinician drive her passion for eliminating disparities in the social determinants of health and creating changes towards population health that ultimately empower individuals to achieve quality of life.
Dr. Buchino's research focuses on health policy development and evaluation, population mental health, and health disparities in health care access and utilization. Her use of mixed methods includes demonstrating the impacts of policies and programs through quantitative data analysis and bringing marginalized voices to the forefront through qualitative research with populations experiencing health disparities. She has led research on the impact of the Affordable Care Act on low-income and minority populations in Louisville and Kentucky, and her work has informed ongoing local strategies to promote health care access and utilization.
Dr. Buchino earned a Bachelor of Arts in psychology from the University of Notre Dame, a Master of Science in Occupational Therapy from Spalding University, and a PhD in Health Promotion and Behavioral Sciences at the UofL School of Public Health and Information Sciences.
Research Interests
Health policy development and evaluation
Population mental health
Health disparities
Community-based and integrated care
Health care workforce capacity and planning
Current Projects
Health Care Access and Utilization
National Curriculum Initiative in Developmental Medicine – UofL
What is Health? A Photovoice Project with People with Intellectual Disabilities
Exploring the Path to Homelessness
Evaluation for the Kentucky Early Hearing Detection and Intervention Program