Muriel J Harris, PhD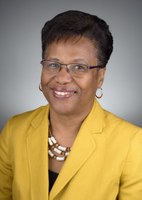 Health Promotion and Behavioral Sciences
Associate Professor
Room No. 213, 485 E. Gray St.
Phone: 502-852-4061
Fax: 502-852-3294
mjharr08@louisville.edu
Office Hours: 8:30 a.m. to 5:00 p.m. or by appointment
Other Responsibilities
Director, PhD Program
Diversity Officer and Chair of the Diversity Committee
Course Director for multiple courses at the graduate level
Principal investigator of local, state and federally funded  program evaluation related grants and contracts
Research Interests: Socio-cultural factors influencing health; health disparities; and program evaluation
Teaching
Course Director, Critical Thinking and Program Evaluation
Course Director, Advanced Program Evaluation
Course Director, Community-Based Participatory Research
Course Director, Community Organizing and Policy Advocacy
Course Director, Culture and Public Health
Research 
March 2010- June 2012
Role: Principal Investigator  (50% effort) & Lead Evaluator
Title: Communities Putting Prevention to Work federal grant award
This study evaluates a recently funded community-wide program implemented to change environmental, systems and policy in Louisville, KY over a two year period. It assesses changes in risk factors for obesity influenced by individual, community, organizational, local and state policy changes. This mixed methods evaluation study conducted process and outcome evaluation research. It assessed changes in social norms, environmental, policy and systems changes and health equity.  During this time I oversaw a team of 8 faculty and staff and a budget of approximately $700,000.
2007- 2010
Role: Evaluation Consultant (25% effort)
Title: Evaluating Health Policy- An Evaluation of Kentucky Health Advocacy Initiatives (Center for Community Health and Evaluation)
This study evaluated the work of a local foundation whose goal was to improve the health of Kentuckians through funding health advocacy organizations to change state and local policy. This mixed methods study evaluated seven funded organizations in Kentucky in collaboration with the Center for Community Health and Evaluation, Seattle, WA.
2007-2008
Role: Principal Investigator (25% effort)
Title: Reducing Health Disparities in Tuberculosis in Kentucky: A Program Evaluation.
This qualitative research study assessed socio-cultural factors influencing the incidence and prevalence of tuberculosis in Kentucky. It replicated a previous study that was conducted in South Carolina (2002-2005) for which I was co-PI.  I supervised a graduate student during this study.
Invited Speaker: Health Equity Summit II, Setting a vision for tangible change: Moving from awareness to action,  April 2012
Peer Reviewed Publications
Textbooks & Book Chapters
Harris, Muriel J. (February 4, 2010) Evaluating Public and Community Health Programs. San Francisco California: Jossey-Bass
Harris, M, Powell, M, Stamp, E. (2009) Re-establishing a home after Katrina: A long and winding road.  In Disasters and Public Health: Hurricanes Katrina, Rita, and Wilma. Editor. Virginia M. Brennan. Baltimore: Johns Hopkins
Harris, M. (2008) Promoting HIV Testing among African Americans. Eds. Margaret U. DeSilva, Joy Hart and Kandi Walker. HIV/AIDS: Prevention and Health Communication. UK: Cambridge Scholars Publishing.
Journal Articles
Harris, M.J, Myers, J. (2012) Barriers and facilitators to healthy eating and physical activity and the impact of socioeconomic status and the build environment on two specific cardiovascular risk factors among residents in six low socioeconomic zip code areas in Louisville, KY. Under review,  BioMed Central
Wallace, S.A, McLennan-Lemal E., Harris, M.J., Townsend, T. G, Miller, K.S. (2011). Why take an HIV test? Concerns, benefits and strategies to promote IV testing among low-income heterosexual African American young adults. Health Education and Behavior. Health Education & Behavior xx(x) 1-9. On line version: http://heb.sagepub.com/content/early/2011/04/02/1090198110382501/ Print version Health Education and Behavior, 38(5), 462-470
Harris, M, Powell, M, Stamp, E. (May 2007). Re-establishing a home after Katrina: A long and winding road. JHCPU 18.2.
Karen Kirtland, Ana Lòpez – De Fede, Muriel Harris (2006). Knowledge and Perceived Risk of Tuberculosis: US Racial and Regional Differences. Ethnicity and Disease, Volume16, pp 468-475
Service Positions
Delta Omega National Honorary Society President (2010-2012)
Kentucky Public Health Leadership Institute mentor, University of Kentucky (2012 to 2013). 
Chair, Board of Directors, Family Health Centers Inc (August 2012 to July 2013)
Director, PhD Program: Department of Health Promotion and Behavioral Sciences (2011 to date)
Team leader on International faculty led 3 week educational/research trip to Ghana, West Africa that included 4 graduate students (May 15- June 5, 2011) Accomplishment: Completed needs assessment: Reducing maternal mortality in Tamale, Northern Ghana- A multifaceted approach
Team leader on International faculty led 3 week educational/research trip to Ghana, West Africa that included 4 graduate students and 1 faculty member (May 19- June 9, 2010): Accomplishment: Photovoice project on knowledge, practices and behavior regarding the prevention of malaria in Kong, Northwest Ghana
Diversity Officer and Chair, Diversity Committee, School of Public Health and Information Sciences, University of Louisville, KY (2005-present)