Brittney Kempf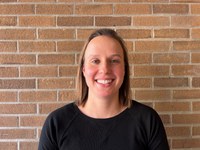 SPHIS Administration 
Admission Counselor, Student Services
485 E Gray St., Room 013
Louisville, KY 40202
Phone: 502-852-1798
b0kemp01@louisville.edu
Office Hours: 8:30 a.m. - 4:30 p.m.
Brittney Kempf was born and raised in southern Indiana. She attended Purdue University for both her undergraduate and graduate degrees. She earned her Bachelor of Science in Applied Exercise and Health with a Minor in Organizational Leadership and Supervision.  Throughout her undergrad years she worked with Purdue Rec Sports where her passion for health and fitness was cultivated. From there she earned a Master of Science in Sport and Recreation Management. During her graduate program, Brittney served as a Graduate Teaching Assistant for the College of Health and Human Sciences in various classes. After graduation, Brittney started her extensive career with the YMCA. During her seven-year career she held various positions and worked as a Healthy Living Director for five years. Her most recent work was Director of Norton Hospital's Employee Fitness Center, where she worked extensively with Norton and their employee health department.
Brittney comes to the University of Louisville with a robust working knowledge of public health and how to navigate the everchanging career field. She looks forward to shepherding students through their new journey and serving the university to her best abilities as the Admission Counselor for the School of Public Health and Information Sciences.
Brittney loves fishing, hiking, being outdoors, and is a die-hard Purdue fan. Boiler Up!