Brian Guinn, PhD, MPH, BSN (RN)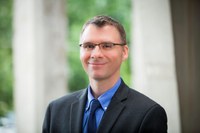 Epidemiology and Population Health
Assistant Professor
Director, MPH Program
485 E. Gray St.,
Phone: 502-852-0251
brian.guinn@louisville.edu
Dr. Guinn joined the Department of Epidemiology and Population Health in July of 2020 after completing postdoctoral training at the University of Louisville – School of Public Health and Information Sciences. As a faculty member, Dr. Guinn teaches public health epidemiology to undergraduate and graduate students. His courses teach the theoretical and practical applications of fundamental epidemiological methods, as well as the historical context that gave rise to modern epidemiology. His research interests include the associations between environmental lead exposure and human health and behavior. Dr. Guinn's long-term research goals include assessing the magnitude of topsoil lead contamination throughout Louisville, to identify at-risk communities. These goals also include working with local, state, and federal agencies to fund lead abatement programs applicable to Louisville, KY.
Selected Publications:
Wiemken TL, Carrico RM, Furmanek SP, Guinn BE, Mattingly WA, Peyrani P, Ramirez JA. The impact of socioeconomic position on the incidence, severity, and clinical outcomes of hospitalized patients with community-acquired pneumonia. Public Health Reports. In Press
Wiemken TL, Furmanek SP, Mattingly WA, Wright MO, Persaud AK, Guinn BE, et al. Methods for computational disease surveillance in infection prevention and control: Statistical process control versus Twitter's anomaly and breakout detection algorithms. American journal of infection control. 2018;46(2):124-32
El-Kersh K, Jalil B, McClave SA, Cavallazzi R, Guardiola J, Guilkey K, Persaud AK, Furmanek SP, Guinn BE, Wiemken TL, Alhariri BC, Kellie SP, Saad M. Enteral nutrition as stress ulcer prophylaxis in critically ill patients: A randomized controlled exploratory study. Journal of critical care. 2018;43:108-13
Ramirez JA, Wiemken TL, Peyrani P, Arnold FW, Kelley R, Mattingly WA, Nakamatsu R, Pena S, Guinn BE, Furmanek SP, Persaud AK, Raghuram A, Fernandez F, Beavin L, Bosson R, Fernandez-Botran R, Cavallazzi R, Bordon J, Valdivieso C, Schulte J, Carrico RM; University of Louisville Pneumonia Study Group. Adults Hospitalized With Pneumonia in the United States: Incidence, Epidemiology, and Mortality. Clinical infectious diseases: an official publication of the Infectious Diseases Society of America. 2017;65(11):1806-12
Wiemken TL, Furmanek SP, Carrico RM, Mattingly WA, Persaud AK, Guinn BE, et al. Process control charts in infection prevention: Make it simple to make it happen. American journal of infection control. 2017;45(3):216-21.
Faryar KA, Freeman CL, Persaud AK, Furmanek SP, Guinn BE, Mattingly WA, et al. The Effects of Kentucky's Comprehensive Opioid Legislation on Patients Presenting with Prescription Opioid or Heroin Abuse to One Urban Emergency Department. The Journal of emergency medicine. 2017;53(6):805-14.
Burkes R, Pfister G, Guinn B, Cavallazzi R. Opioid overdose leading to intensive care unit admission: Epidemiology and outcomes. Journal of critical care. 2017;37:261.