Membership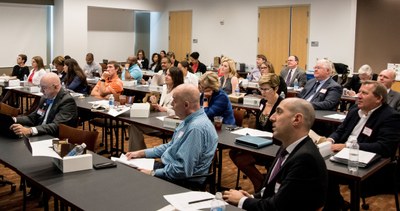 Our research team at the UofL School of Public Health & Information Sciences is engaging in innovative research and work through our Center for Health Organization Transformation, a National Science Foundation-funded (NSF) Research Center. 
As a NSF Industry-University Cooperative Research Center (NSF IUCRC), CHOT is designed to improve health and healthcare delivery by partnering with organizations to identify and develop a plan around their needs and challenges. We work alongside our partners to identify a need, develop a plan and form a research team to implement the plan.   
Members may

 log in here
FAQ's
How will CHOT impact my organization?
Put research into practice and learn how your organization can partner with UofL to improve healthcare delivery at your organization and/or in your community. We will work with you to develop a plan to address your needs and goals. 
Why become a CHOT member?
--Gain a competitive advantage on evidence-based innovations in healthcare delivery
--Work alongside a multi-disciplinary team to solve challenges related to healthcare
--Enjoy a third-party perspective on your organization's challenge by using university researchers as thought partners
--Access to national CHOT partners and research teams and their innovations
--Leverage credibility of the NSF CHOT research methodology and rigor to engage other leaders and lend credibility to solutions
Complete this form to learn more about membership opportunities. 
  If you want to learn more, please contact us Email