Center for Creative Placehealing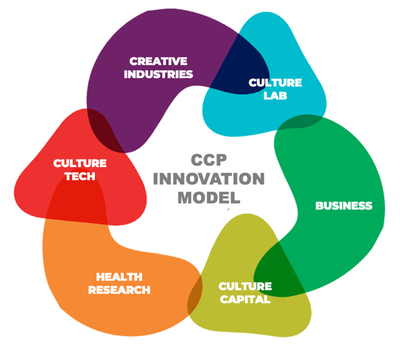 Vision
Thriving cultures and inclusive economies where everyone is able to contribute their full, creative, potential.
Mission
Leveraging the power of arts, culture and creative industries to make population health practice and research, universally accessible and useful. 
Values
Innovation grounded in culture. Progress backed by science. 
30x30 Impact Goal
By 2030, create a culture shift which improves the wellbeing of at least 30 million Americans.
Theory of Change
Creatives and creative industry companies, when backed by science, can:
(1) expand opportunities for population health innovation and inclusive entrepreneurship;
(2) build new corporate social responsibility partnerships between health organizations and private sector business seeking to maximize their community impact and shareholder value; and,
(3) create positive, measurable, economic impact for Kentucky.
Why do we need to expand opportunities for health innovation?
More than 80% of America's healthcare expenditure is on largely preventable (non-communicable) diseases like depression. Research from the World Health Organization says that culture must play a primary role in solving deeply entrenched health and social challenges including: substance use disorder; obesity; inclusive workplace/economy; social isolation; mindful aging; food access; environmental sustainability; youth development; and, creation of a civil society.
Who are the partners in CCP?
The University of Louisville School of Public Health & Information Sciences leads the collaboration in partnership with IDEAS xLab and a coalition of private sector businesses, government agencies, research universities, philanthropic foundations, creative industries, and healthcare providers.
What does Creative Placehealing mean?
Culture -- in the physical and digital places where we work, live, learn and play – impacts our health. Creative Placehealing is an evolutionary approach to population health research and development, that centers innovation, on creativity and culture.
How does CCP support innovation?
The Center for Creative Placehealing provides an inclusive, efficient, intellectual space for developing culturally-responsive solutions with and for communities, consumers, and employees. Deliverables include cultural strategies, innovation labs, research support and scalable health communications initiatives. CCP helps companies, governments and communities effectively engage the cultural challenges at hand, no matter what the population health issue. We are experts at combining culturally-based, transdisciplinary field research, with lean startup/agile development methodologies.
The 5 C's of Creative Placehealing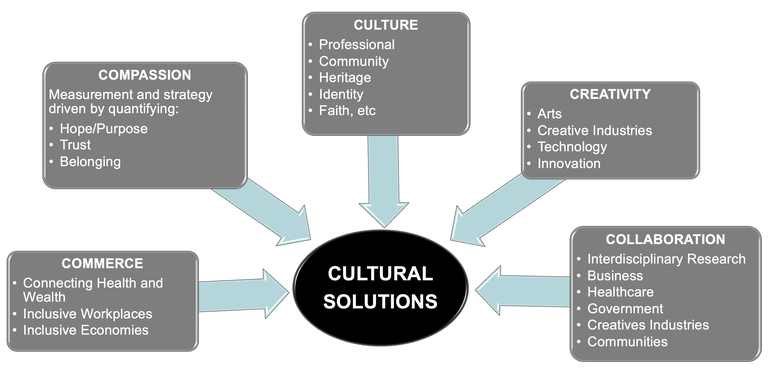 What are cultural solutions?
CCP is most interested in finding innovative solutions, backed by science, that can spread across society to become popular culture. Cultural solutions can take the shape of programs, projects, policies, products, services, or tools.
How CCP creates new value?
Innovating through culture. We help people to think more broadly about culture as a powerful framework for innovation in health and wellbeing.
Inspiring leadership. All of us exists within multiple cultural frameworks at any given time.  We help others decipher those frameworks in order to unlock human potential.
Transcending boundaries. Whether in a company, an industry, or a geographical region, boundaries in today's economic, health and cultural landscapes are fluid. Strategic action can never be just about one thing. CCP's approach to culture shift management helps others consider almost everything, across society, technology, business, and the humanities that can be put to work to achieve exponential results.
Provoking new ways of thinking. CCP offers a customized, safe, creative, experiential framework for pushing systems to think beyond their comfort zones. As creatives, we are skilled at finding ways to use experiences for breakthrough solution finding. As scientists, we are skilled at turning breakthroughs, grounded in culture, into actionable strategies.
Managing information overload. In today's highly networked world, the amount of data we produce every day is truly mind-boggling. Forbes reports that there are 2.5 quintillion bytes of data created each day. The sheer volume can be overwhelming. CCP's system of cultural analytics provides a methodology for deciphering unstructured, qualitative data and combining it with up to date scientific research to support solution finding at scale.
Return on Investment
The University of Louisville School of Public Health & Information Sciences is actively building a start-up fund to launch CCP's research and development program. There are multiple levels of investment opportunity, from individual to institutional.
By bridging mutual interests and funding from our core sectors, CCP offers a unique approach for building a culture of health, in that it helps multiple stakeholders, on multiple scales, from an individual resident, up to the entire community.
Briefly outlined below is how each stakeholder group will benefit from the work of CCP:
Employees, business owners and their families:

gain control over the creation of programs designed to improve access to prevention services, improve quality of life, and reduce lost productivity through evolutionary, clinical-community business models.

Health providers

(e.g., University of Louisville): improve healthcare quality, reduce cost resulting from underutilization of preventative services, contribute to community benefit, and enhance innovation.

Self-insured employers

(e.g., GE, UPS, Ford, Humana, Amazon): reduce cost resulting from underutilization of preventative services, absenteeism, presenteeism; and contribute to community benefit while expanding opportunities for innovation.

Government (municipal/state):

improves knowledge of employee and population health while providing a new methodology for investing in culture/creativity to accelerate economic development, enhance quality of life and promote talent/business/tourism attraction.

Diverse Communities:

enhance public awareness of hope, trust, and belonging as important factors in community health, increase fiscal support for creatives in their communities, and, benefit from the business-led actions that foster inclusive workplaces and economies.
>>> For more information, contact Theo Edmonds, JD, MHA, MF at Theodore.edmonds@louisville.edu or visit the Center for Creative Placehealing website.