Donors and Friends
The School of Public Health and Information Sciences strives to become a nationally recognized center of excellence for the creation, sharing and application of knowledge for the public's health. In doing so, the SPHIS endeavors to lead local, national and global efforts to solve some of this century's greatest health and environmental challenges.
The University of Louisville is a critical resource for improving economic development, social justice, racial harmony and an understanding of urban issues. The city draws on the energy of the university and conversely, we reciprocate by supporting and engaging the city.
Some of our current work includes conducting ground-breaking research, beginning a unique, global partnership in Pakistan, expanding the MPH curriculum to include maternal and child health and global health concentrations, and developing new degree programs preferred by students.
Dr. Blakely has set a goal to establish a $250,000 Alumni Student Scholarship endowment to help students pay for tuition, study abroad and conference travel.
This endowment will be permanent, and we need your help.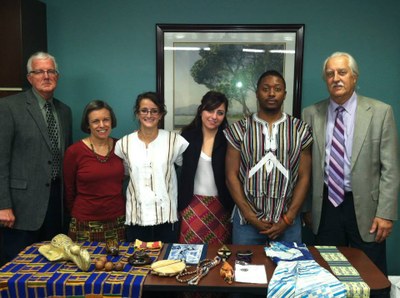 Most of us know the doors this will open, and many of you have made contributions to support students, research and service – thank you. When students experience an enriching education, they improve their capacity to successfully impact public health, and further the SPHIS reputation. This amplifies career options for all alumni and draws the best and brightest students to the University for cutting edge research, service opportunities and learning.
For more information about ways to give or the types of gifts accepted, please contact Melissa Schreck or visit SPHIS Giving Online.