2023 Alumni Fellow
Kimberly H. Mascaro, MPH '13, named 2023 Alumni Fellow.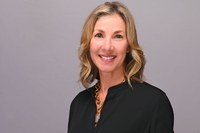 The UofL School of Public Health and Information Sciences is pleased to announce Kimberly H. Mascaro as the recipient of the 2023 Alumni Fellow award. Mascaro received her Master of Public Health (MPH) in 2013 from UofL SPHIS and has worked in healthcare for 30 years. 
"Kimberly Mascaro is an exceptional graduate who is profoundly committed to the university and the Louisville community. We are excited to honor her and recognize her achievements at this year's Alumni Awards," said SPHIS interim dean, Dr. Paul McKinney.
Since 2007, Mascaro has been an integral part of Confluent Health, serving as the Chief Marketing Officer before her current position as the Executive Vice President, Innovations. In this role, she helps employers, payers, and physician groups improve outcomes by connecting their employees and patients with advanced musculoskeletal experts, cutting-edge technologies, and efficient omnichannel pathways.
While Mascaro was a student in the MPH program, she worked on a capstone project that evolved into ChooseWell Communities, a non-profit organization that equips Louisville families in early recovery with access to affordable housing and community supports through their children's fifth birthday. As a co-founder and Chairperson of the Board, she continues to be deeply involved in ChooseWell's mission.
Throughout her career, Mascaro has held key roles in various healthcare settings with a focus on developing and implementing growth and health promotion strategies that serve local communities and remove barriers to access healthcare. Mascaro served Director of Regional Business Development for Jewish Hospital Healthcare Service and Vice President of Strategic Marketing for KORT. She was also a consultant at Doerr & Maddox Project Solutions, a start-up healthcare consulting company, and senior consultant with Three Diamonds Consulting, LLC.
Mascaro is actively engaged in mentoring women in their careers and providing leadership in various sectors. She is an esteemed member of the SPHIS Community Advisory Board. In 2020, Mascaro was recognized by Louisville Business First as part of the publication's annual Enterprising Women program. 
Residing in Prospect, Kentucky, Mascaro lives with her husband Joe, who is an oral surgeon and a graduate of the UofL School of Dentistry. They have six children and are excitedly anticipating the arrival of their ninth grandchild.