2021 Alumni Fellow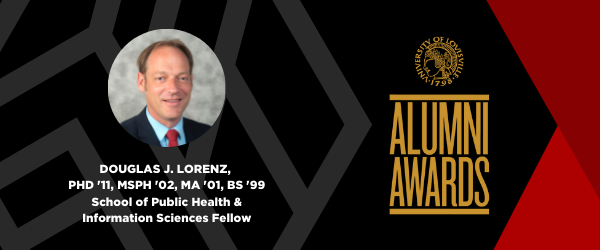 Dr. Douglas J. Lorenz has been named the 2021 School of Public Health & Information Sciences Alumni Fellow.
He received Bachelor of Science in Mathematics in 1999; his Master of Arts in Mathematics in 2001; Master of Science in Public Health in Biostatics Decision Science in 2002; and his Doctor of Philosophy in Mathematics in 2011, all from the University of Louisville. As a student, he was a member of Pi Mu Epsilon and a 4-year letterwinner and captain of the baseball team. He is an elected member of Delta Omega, Pi Beta Chapter. He received  University of Louisville Graduate Dean's Citations in 2002 and 2011 and a Hohman Fellowship in the University of Louisville Department of Mathematics in 2006.
Dr. Lorenz is an Associate Professor at the University of Louisville.He received the 2014 University of Louisville "Top 4" Faculty Favorite and a University of Louisville Faculty Favorite each year from 2014 through 2019. Dr. Lorenz joined the Department of Bioinformatics and Biostatistics in 2003, as a Statistician with the Statistical Consulting Center. After completing his Doctorate in Applied and Industrial Mathematics, he joined the faculty in the Fall of 2011.
His primary research collaboration is with the Pediatric Emergency Division at Northwestern University and Lurie Children's Hospital in which he provides biostatistical support to faculty, fellows, residents, and attendings with their research. Notable projects include identifying discriminating characteristics of abused children in the pediatric emergency setting and decision rules for pneumonia severity. His methodological research primarily focuses on methods for clustered data under informative cluster size and informative within-cluster covariate distributions. He also has an interest in the areas of survival analysis and multistate models. Previously, Dr. Lorenz conducted collaborative research with Dr. Susan Harkema in spinal cord injury rehabilitation.
Doug and his wife, Melissa, also a University of Louisville graduate, reside with their four children in the Louisville area.
Watch a Q&A to learn more about our 2021 Alumni Fellow. This virtual event followed an interview format so attendees can learn more about Dr. Lorenz's experiences and achievements since graduation.