It was a good year for Noah Ashley, PhD
" I think I have had a diverse background in terms of research interests, and it's nice to see them finally come together in the form of these two projects. "
2016 $400,000 NIH Grant Recipient
Dr. Noah Ashley, WKU Assistant Professor, was awarded over $400,000 for his research project "Sympathetic Regulation of Inflammation from Sleep Fragmentation." He describes his research and goals in the video below.
2016 NSF Grant Recipient (5 years, $950,000+)
Dr. Ashley received an NSF research grant to study how arctic songbirds in Alaska have adapted to diminished sleep patterns and how that might help in the understanding of sleep loss in humans. Learn more at WKU
Noah Ashley, Ph.D.
Assistant Professor
Western Kentucky University
Teaching courses in Human Anatomy & Physiology and in Endocrinology
Education
Postdoc (2011-2012) – Ohio State University Wexner Medical Center, Columbus, OH
Postdoc (2009-2010)- University of Alaska, Anchorage, AK & University of California, Berkeley, CA
Ph. D. in Zoology (2004)- University of Washington, Seattle, WA
B.A. in Biology (1997)- Colby College, Waterville, ME
Just asking
Tell us about your NSF grant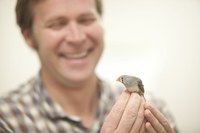 (WKU photo by Clinton Lewis)
"The other grant I have is an NSF grant for research that carries forward previous research that I've done on arctic breeding songbirds. For one of my post-doctoral positions I looked at how arctic breeding birds regulate their circadian rhythms. If you have ever gone to Northern Alaska in the summertime, the sun never sets for weeks, maybe months. It is constant daylight. So the question is, how do animals regulate their circadian rhythms when they lack the dark cycle? And while I was doing research at Ohio State on immune sleep interactions, I started to wonder, when do these birds sleep? So the main question for this grant is "What are the sleep patterns of these birds and what happens to their reproductive prospects if they lose sleep and if they gain sleep?" This is the first year of that grant as well. So, I'm really happy to have both projects going on in my lab and moving forward with research."
How did you develop your interest in sleep and the immune system?
"As a kid, I have always been intrigued by biology, and I try to impart the same passion that I have to my four kids. What really started my interest in ornithological work was an amazing college professor who was studying birds. I also had a passion for physiology, and that is what led me to the interest in some biomedical aspects of sleep and the immune system.
I think I have had a diverse background in terms of research interests, and it's nice to see them finally come together in the form of these two projects."