Facilities
KY INBRE Bioinformatics Cluster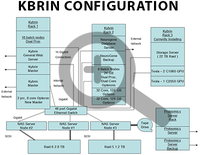 The KY INBRE Bioinformatics Cluster is a hybrid cluster system for developmental bioinformatics use for researchers throughout Kentucky. The first generation cluster was built with 16 dual AMD 2400 nodes. An additional eight dual processor, dual core opteron nodes with 24 GB memory each have subsequently been added. Two RAID storage arrays are currently attached to KY INBRE, offering 4 TB of storage and an additional 23 TB storage array used primarily for short term data and system backups.
Use of the cluster is intended for researchers and students throughout the Kentucky IDeA Networks of Biomedical Research Excellence (KY INBRE) in order to further the development of bioinformatics education and research. The cluster is currently located at the Dahlem Supercomputer Center in the Henry Vogt Building at the University of Louisville Speed School of Engineering.
To request an account, please complete the online account request form.
KY INBRE Bioinformatics Suite
A suite of offices and a conference room, located in the KY INBRE Building at 522 East Gray Street in Louisville, Kentucky, is home to several bioinformatics faculty, postdoctoral researchers and staff.
The conference room is equipped with Polycom® video conferencing technology.