Stargazing with Hannelore and Her Dad
Free Premier March 14, 7:30 PM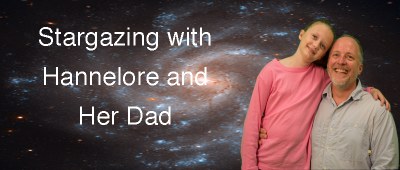 Hannelore and her dad take us on a brief journey of the night sky each season to learn which constellations are visible in the current night sky. Whether it's the love story of Andromeda and Perseus or the conquests of Zeus or the mighty battles of Hercules and various creatures or how the North Star, Polaris, will be replaced around 3000 AD, there is much to learn and enjoy in the night sky, even without a telescope.
The FREE premier of the spring edition of Stargazing with Hannelore and Her Dad is on Friday, March 14, 7:30 PM. Stay for the 8 PM LIVE presentation of *Skies Over Louisville (SOL) to get even more information and receive a star map. Afterward, members of the Louisville Astronomical Society will be on hand  with telescopes in the courtyard so that everyone can practice what they learn in SOL (weather permitting).
Don't worry if you can't make the free premier of Stargazing...it is shown at the end of all of our regular educational weekend public shows (not the laser music shows).
*Admission to Skies over Louisville:
$8 adults
$6 kids 2-12, seniors 65+ and
UofL affiliates with a valid ID.

Members get in FREE!