Hayden Named Kentucky Racing Health Services Director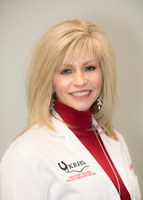 The KRHSC is a program of the Kentucky Racing Health and Welfare Fund, Inc. in partnership with the University of Louisville School of Nursing.
It provides comprehensive health care to those licensed by the Kentucky Horse Racing Commission andworking in the Kentucky's thoroughbred Industry. The
Center was recently designated an innovative model by the American Academy of Nursing.  Hayden, who advanced her clinical training at KRHSC while a student in the Master of Science in Nursing program at UofL in 2009, says she grew to love working with the people who visited the center.
Hayden will head up a team of eight nurse practitioners who regularly practice at the Center and a fluctuating number of nursing and dental students, translators and foreign language students.  Read the full story here.