Recent Honors & Publications
December 12, 2022
Faculty Honors
Dr. Ratchneewan Ross was honored by the Transcultural Nursing Society with induction as a Transcultural Nursing Scholar. The purpose of the Transcultural Scholars is to recognize persons who have demonstrated and documented exemplary scholarship by advancing transcultural nursing and health care research, education, practice, and/or administration within regional, national, or global contexts.
Dr. Kate Adelstein was accepted into the prestigious and highly competitive Harvard Workshop on Research Methods in Supportive Oncology for early-career researchers which will be held January 22-27, 2023. The 6-day workshop will provide an overview of fundamental methods, such as study designs, qualitative and survey methods, and approaches to data analysis in supportive oncology research. Over the course of the workshop, participants will write a complete study protocol under the direct mentorship of expert faculty in the field of supportive oncology. Participants will continue to receive assistance after the workshop from their workshop mentors to help in the implementation of their studies at their home institutions. The workshop will be virtual, but there will be optional in-person networking activities in Boston for which the program will cover travel and provide a $1,000 stipend for lodging.
Dr. Paul Clark received the Journal of Emergency Nursing Reviewer of the Year Award at the Emergency Nurses Association national meeting in Denver, CO.
---
Faculty and Student Publications
Congratulations to the 10 faculty members and four students/recent graduates who had recent publications! Drs. Harrington and Ross each had four! The array of critical topics addressed and journals in which the articles were published is impressive! Student co-authors are annotated with an asterisk.
Abusalem, S., Abuhammad, S., Sha, S., *Martinez Mar, M., Aljeesh, Y., & Eldeirawi, K.M. (2022). Intentions to receive COVID-19 vaccination among people in Gaza Strip. Electronic Journal of General Medicine,19(6): em412. https://doi.org/10.29333/ejgm/12413
Furmanek, S....... Roser,L.,*McGuffin, T. et al. (2022). Correlations of before and after event echocardiographic parameters with troponin and BNP in hospitalized COVID-19 patients with cardiovascular events. Journal of Cardiothoracic and Vascular Anesthesia, September 2022. DOI: 10.1053/j.jvca.2022.08.024
Harrington,C.C.(2022). Calcium disorders. In L. Kennedy-Malone & E. Groenke-Duffy (Eds.) 3rd ed. Advanced practice nursing in the care of older adults, (pp. 438-442). FA Davis.
Harrington, C. C., Dean-Witt, C., & Cacchione, P. Z. (2022). Female caregivers' contextual complexities and familial power structures within Alzheimer's care. Journal of Women & Aging, Published online. DOI: 10.1080/08952841.2022.2130655
Harrington, C.C. & Hayden, D.M. (2022). Maximizing opportunities: Primary hyperparathyroidism in older adults. Journal of Nurse Practitioners. Advance Online publication. https://doi.org/10.1016/j.nurpra.2022.07.008
Harrington, C.C., *Roederer, A.M, Eppley, H.K., & Cacchione, P.Z. (2022). When up is down: Delirium superimposed on dementia. American Nurse, 17(11). https://www.myamericannurse.com/delirium-superimposed-on-dementia/
Miller, J., Warren, G., & Biven, S. (2022). Using the academic electronic health record to build clinical judgment skills in the classroom setting. Teaching and Learning in Nursing, 17(4), 438-440. doi: 10.1016/j.teln.2022.05.002.
Hess, R. F., Croasmun, A. C., Pittman, C., Baird, M. B., & Ross,R.(2022). Psychological distress, post-traumatic stress, and suicidal ideation among resettled Nepali-speaking Bhutanese refugees in the United States: Rates and predictors. Journal of Transcultural Nursing: Official Journal of the Transcultural Nursing Society, 33(3), 314–323. https://doi.org/10.1177/10436596211070599
Hess, R. F., Ross, R., Wyss, L., & Donnenwirth, J. A. (2022). Nursing students' knowledge gained about female genital cutting/mutilation through dramatization simulation with a standardized patient: A quasi-experimental study. Nurse Education Today, 116, 105443. https://doi.org/10.1016/j.nedt.2022.105443
Sheppard, F.H., Goins, R.T., Ross, R., Conte, K., & Zonin, N., (2022). Older nurses' perceptions of workforce retention facilitators and barriers during the COVID-19 pandemic. OJIN: The Online Journal of Issues in Nursing, 27(3). DOI: 10.3912/OJIN.Vol2No03PPT75.
Wyss, L., Donnenwirth, J. A., Ross, R., & Hess, R. F. (2022). Educating nursing students about female genital cutting/ mutilation using a standardized patient in a virtual dramatization simulation. Journal of Transcultural Nursing: Official Journal of the Transcultural Nursing Society, 10436596221107599. Advanced online publication. https://doi.org/10.1177/10436596221107599
Salameh, T.N., Hall, L.A., & Hall, M.T. (2022). Predictors of cigarette smoking in pregnant women with substance use disorders. Journal of Addictive Diseases, DOI: 10.1080/10550887.2022.2138714
Woods-Giscombe, C.L...... Hines-Martin, V. (2022). Honoring the past and charting the future: The International Society of Psychiatric Mental Health Nurses' commitment to advance diversity and equity in mental health care. Archives of Psychiatric Nursing. https://www.sciencedirect.com/science/article/pii/S0883941722001108
---
Ph.D. Student Accomplishments
Three of our Ph.D. students represented the school extremely well as participants in the campus-wide Three Minute Thesis (3MT) Competition which is part of a larger international competition. In this research communication competition, students had three minutes to present a compelling oration on their research and its significance with only one slide and no notes. The 3MT challenges students to consolidate their ideas and research so they can be presented concisely to a non-specialist audience.
Ph.D. Candidate Casey Saulman (first image) received second place and a $500 prize for his presentation, Pumping Life into a Deadly Heart Disease with Pressure-Volume Loops.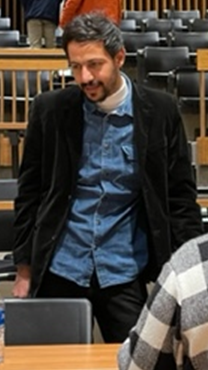 Mifleh Al Araydeh (second image) presented on My Husband is a Monster as a Human Being: A Woman Forced to Stay in a Conflicting Relationship
Ph.D. Candidate Tolu Olajuyigbe (right) presented on Living with an Invisible Illness: The Unheard Voices of Young Adults with Sickle Cell Disease.