DNP, FNP student honored as Health Care Hero shares story of inspiration from front lines of COVID-19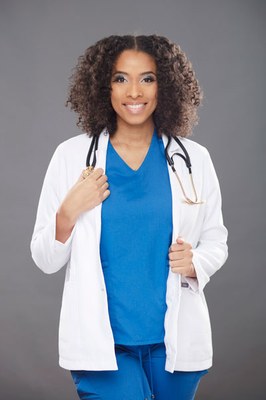 This last year has affected millions of lives. And while it's been a trying time for many, it's also a time to recognize and thank some of the heroes.
Congratulations to Briana Neal, current DNP, FNP student and graduate teaching assistant, on being named a Health Care Hero by Louisville Business First.
The publication's annual Health Care Heroes program features medical professional who go above the call of duty. This past year especially shined a light on that during the COVID-19 pandemic.
Neal was pregnant during 2020 and now is a proud mother of a four-month-old. Her mother also battled gastric cancer and she lost her grandmother due to COVID-19.
Neal said despite a difficult year amid family health issues and working through COVID-19, she remains positive and committed to her critically ill patients on the cardiovascular unit.
"When you look at a patient going through the hardest part of their life, you sort of evaluate your own life. They are inspiring," she said. "I take gratitude away from it. You deal with death and dying patients so in the grand scheme of things, that tough test that you are facing seems much easier now."
Neal credits her mother, who is in remission, and her partner for supporting her. She said it is an honor to be recognized and said she stands on the words of the late Maya Angelou:
"Out of the huts of history's shame, I rise. Up from a past that's rooted in pain, I rise. I'm a black ocean, leaping and wide, Welling and swelling I bear in the tide. Leaving behind nights of terror and fear, I rise. Into a daybreak that's wondrously clear, I rise. Bringing the gifts that my ancestors gave, I am the dream and the hope of the slave. I rise!"
We are proud to call Neal a Cardinal nurse. Neal will be recognized in a virtual event in April.