Beth Buelow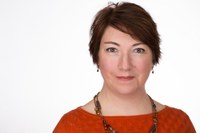 Please tell us what your major was in college (what degree you earned) and how/why you chose to study Music?
I was a music performance major in clarinet. I started out as a music education major, but switched in my freshman year. It was through witnessing the passion and excitement for teaching of a friend that I realized that I didn't have the same passion! Teaching is a calling, and while I have since discovered I have a talent for it, teaching music wasn't what I felt called to do.
 At what age did you develop a love for music, or know you wanted to study music or be a musician when you grew up?
 My father was a non-musician who nevertheless loved classical music and frequently played records (yes, records!) of Tchaikovsky, Smetana, and Bizet. He took me to see a local university production of Carmen when I was about 10, and I tried both violin and guitar in the years that followed. Oddly enough, neither of them stuck. But in 6th grade, we had the option to sign up for band. I desperately wanted to play flute, mostly because I wanted to be with my best friend, who had chosen the flute. Our finances only allowed us to purchase a used clarinet (listed in the Penny Saver for $40, and my dad talked them down to $35), and I took to it immediately. I don't know that I had a particular moment when I said "I want to be a musician." It just was. I do remember being an enchanted 13-year-old, watching the 1984 Winter Olympics ice dancing performance of Torvill and Dean as Bolero pulsed from the television, and thinking "I want to play THAT."
 What was your career path after college? First job? How long did it take you to find your first job?  How did you find your first job?
 I followed up UofL with a Masters in Clarinet Performance from Northwestern University. It was during that year, much like my discovery during freshman year that I wasn't cut out to be a teacher, that I realized I didn't have sufficient passion to be a performer. So I completed my degree and went on to get a Masters in Arts Administration at Indiana University. My passion was for the arts and performance, and I realized that I didn't need a clarinet in my hands to express myself. Immediately after I completed a marketing/public relationship internship with the Milwaukee Symphony, I went on to be the Managing Director of a small dance company. The connections I made during my internship were key to finding that first job. My initial success came through a combination of networking and doing the best job I could at the Symphony so that I would have a portfolio demonstrating the strength of my skills. Following that first job, I spent the next 12 years in a variety of arts administration and nonprofit positions, doing everything from fundraising, public relations and marketing, to web strategy and grant making.
 What is your job title now?
 I'm the Founder of The Introvert Entrepreneur, a personal and professional development company that serves as a resource to introverts who want to amplify their strengths and create success on their own terms. My work encompasses many roles: coach, author, speaker, trainer, and podcaster. I'm proud to have both self-published and been published in late 2015 by Penguin Random House/TarcherPerigee. (book link, if you want it: https://www.amazon.com/gp/product/0399174834/ )
 What do you enjoy most about your current work?
I have complete freedom and continuous opportunities to use my previous training – and that absolutely includes my music and arts administration background – to express myself and be of service to others. Public speaking makes the most of my music performance experience, as there is plentiful overlap between the skills required. I view being an entrepreneur as a creative pursuit. In my line of work, I'm selling the invisible, much as musicians are. We know we have something of value to offer, and the creative challenge is to present it as relevant while still honoring its aspirational aspects.
 What advice/tips would you give to other UofL Music students?
Be open to a range of possibilities. In particular, if you decide to become a performer, you must see yourself as an entrepreneur. You are not just a clarinet player or singer or percussionist. Even if you work hard and secure a position with a major orchestra or ensemble, a sustainable career depends on engaging in a range of activities. Those might include teaching, writing, conducting, composing or arranging, inventing, or collaborating with other disciplines and fields (including science, medicine, and technology). The most successful musicians I've encountered have that entrepreneurial mindset, always innovating and pushing their own boundaries. Also, it's important to spend copious amounts of time in the practice room, but remember to get out and involved on campus, too. Immersion is important, but so is balance. I was active in student government for several years. That experience helped me to meet students in other majors and develop a better understanding of complex systems. Make time for non-music activities and friends that give you energy. Down the road, those connections might come back to be helpful to you in surprising ways.
Recently my husband, who is an orchestra executive, and I attended a contemporary chamber music performance. For every piece but one, the composer was in the audience. The conductor and founder of the group was chatting with us at intermission, and he shared something very important: he could go his entire life immersed in Mozart, Mahler, and Stravinsky and be happy as a clam. But working with new music and contemporary composers brought him great joy and newfound energy. He admitted he was figuring it out as he went, seeing it as a grand adventure. That's what I took away from the conversation and hope today's music students embrace: it's an adventure into the unknown, and you can't predict the twists and turns your path will take. You can plan and practice and set your goals, and life might have other plans. I don't mean that to sound pessimistic; instead, I mean to liberate you from attachment to things happening a particular way in a particular time frame. It's okay to make goals; just don't get so attached to them that you miss other, potentially more fabulous, opportunities.
 What can students do with a Music degree?
 Beyond the obvious teaching, conducting, composing, and performing, there are numerous opportunities. I can vouch for the path I took of using my music degree as a path to arts administration, then by extension nonprofit management, to where I am today as an entrepreneur. I viewed my arts administration graduate degree as a nonprofit MBA, which is how I bridged from arts to the greater nonprofit sector. Then it's not a huge leap to having your own business. And today's economy has more possibility around the intersection of music, the arts, and technology, so that's another area to explore. Consider the everyday places we experience music in full and in snippets: coffee shops, movies, television, stores, radio, games, podcasts… somewhere in the chain that brought that music to you, a musician was involved. That might seem obvious, but we sometimes overlook the obvious if we're too focused on our preconceived notions of what it means to be a musician!
There are also ways to use your degree even if you don't pursue music as your profession. Participate in community and church ensembles. Join the board of the local symphony. Volunteer at your city's arts center. Be aware that the discipline, focus, creativity, and analytical thinking you developed as a musician is transferable to any number of fields and positions.
Here's another example: My mode of creative expression has shifted primarily to photography over the years. And my one of my favorite subjects to photograph? Conductors and musicians! My brain is alive with my musical knowledge in those situations. I know when the conductor is going to turn a certain way because of the music, or when it's going to be quiet and I need to refrain from making camera noise, or when the music is going to be in a wild frenzy and I can click away. I know how to compose a musical photograph, and it's exciting to capture a moment that sings.
What should students know about the Music industry today?
Understand that the music to which you've dedicated yourself is challenging to sell to the general public. We are so close to it, feel so passionately about, it seems obvious that everyone would buy tickets and support us. But we must always be ready to answer the question, "So what?" You can't just perform and go home; you must advocate and educate and be a champion for your art.
In addition, the industry is becoming more and more open to different types, styles and genres of music, so if you can develop a unique spin on your presentation – a niche – then you'll likely have more opportunities. I'm not saying to adopt a gimmick, but rather a genuine twist on the traditional. You'll still have to work hard to sell it, but you'll have a stronger hook to attract interest.
What does it take to be successful in Music, and also as an entrepreneur/author?
One of the reasons I feel my entrepreneurial journey has evolved organically from my musician roots is because there's a lot of overlap. And I firmly believe musicians must see themselves as entrepreneurs. Study marketing and self-promotion. Use technology wisely to create a presence and brand for yourself (even if you think you'll be an ensemble musician – don't put all your eggs in one basket!). This might sound a bit crass, but see yourself as a business, as product to sell, and do all the preparation and packaging that is required of a product. In a highly competitive market, it's not the most talented that stand out and get the gigs; it's the musicians who have a combination of talent and business savvy, who know how to promote and market themselves. This is like being an author and getting a book deal; sure, the publisher wants someone who can write, but they need someone who knows how to write and advocate for their idea and sell it. There is a constant tension between creative expression and market demand. Music is no different.
If you're serious about being in the industry long-term, do an internship or work part-time as an arts administrator. Learn about the management side of music industry, including budgeting, marketing, fundraising, audience development, and board governance. The relationship between performers and management is too often unnecessarily adversarial, many times because there's little understanding from musicians about what's involved in running an organization. At the same time, administrators can lose touch with the artistic realities you experience as a musician. Take every opportunity to educate and communicate with the board, staff, and volunteers about the perspective of the musicians. Get to know the staff and what they do. Practice open and honest communication. Remember: you're both on the same side! Being open to dialogue will only enhance your working relationship and increase the chances that your feedback will be valued.
Finally, and this is again parallel to being an entrepreneur: You need to stand out visually, in your performance style, and in your attitude. That said, divas need not apply! Performers who are low maintenance, highly communicative, and flexible are much more likely to enjoy a successful and rewarding career.
How should students network? What is the best way to find a job in one's chosen field?Any advice on the job search process...resumes, interviewing, auditioning, etc.?
Networking is just as important as spending time in the practice room. When you attend conferences and conventions, or participate in special ensembles, take time to meet the people around you. Learn about what their goals are, what they're up to, find out who you know in common. To whatever extent feels productive for you, maintain a presence on social media and participate in private groups that allow for deeper connections (one for UofL school of music alumni just sprung up on Facebook, in fact!). You never know where opportunity or collaboration will blossom! Polish your conversational skills and even take a networking workshop if you need tips and practice. Be aware that finding a job or winning an audition is dependent on more than your technical skills. One's capacity to cope with stress, make a positive first impression, deal with fears and nerves, and have an attitude of patience and persistence is absolutely essential.
One of the best examples of smart networking comes from a violinist I know who has established a busy solo career for herself. She met my husband about 10 years ago when we were in Michigan. She was in town for a concert and made a point to invite my husband, who was executive director of the local symphony, to her performance. He was impressed with her playing but if I remember correctly, he didn't hire her right away. When we moved across the country to Washington state, she kept in touch. And once again, when her travels brought her close to us, she reached out to Andy and invited us to her performance. Soon after, he ended up engaging her as a soloist on an upcoming season. She was charming, approachable, persistent, patient, and, by the way, talented. She took full responsibility for her career and continues to reap the benefits.
Main website, incl. books + podcast: TheIntrovertEntrepreneur.com
Twitter: @introvertcoach
FB: /theintrovertentrepreneur
LinkedIn: linkedin.com/in/bethbuelow
beth@theintrovertentrepreneur.com