School of Music student picked to speak at commencement ceremony
School of Music graduating senior Murphy Lamb has been chosen as the student speaker at the University of Louisville's Commencement ceremony May 8, 2021, in Cardinal Stadium. The Campbellsville, Kentucky, native and pianist is graduating with a Bachelor of Arts in music and a minor in physics.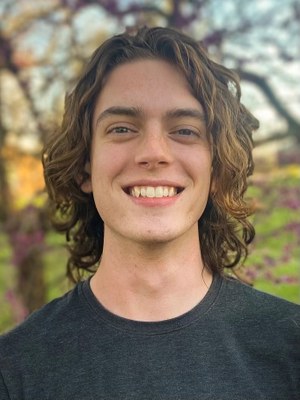 "I hope to relay to guests and fellow graduates that graduation is a time to reflect on our experiences, look forward to the opportunities ahead of us, but most importantly, it is a time to connect with one another in the present. It is a time to celebrate our accomplishments and live into the fullness of the moment," Lamb said.
Lamb is the 2021 School of Music Outstanding Graduating Senior award winner. At the end of his Junior Year, Lamb was recognized by the faculty as the 2020-21 Presser Scholar, an award given to the student who best exemplifies high academic accomplishment, leadership, and citizenship. In Fall 2019, he was selected as the overall winner of the School of Music's Concerto Competition providing him with the opportunity to perform a concerto with the UofL Symphony Orchestra in March of 2020, a concert that had to be cancelled at the last minute due to Covid-19.
"Whether in the classroom or piano studio, he has been a thoughtful student using his creative thinking skills to dig deeper into the music he is studying. He asks probing questions, strives to reach the highest goals, and has grown into a pianist with excellent technical skills and a deep sense of musical understanding and expression," said Associate Dean Emeritus and Piano professor Dr Naomi Oliphant.
In his leadership roles, he has challenged and guided others to put forth their best effort. He has served as a Student Ambassador and Peer Mentor to incoming freshman and as a Student Advisor for music students. He is Music Director of Phi Mu Alpha Sinfonia Fraternity and served on the Music Student Council and Cardinal Marching Band Leadership Team. He has held positions as a Residential Advisor for the Kentucky Governor's School for the Arts and as an Intern for the Louisville Orchestra Artistic Operations Department.
"Murphy has demonstrated to all that he is truly our outstanding graduating senior, and I know he will make the University of Louisville School of Music proud of him as he looks forward to a future career in the music world," said Oliphant.
---
When
Spring 2021 Commencement Ceremony 3 will be May 8 at 4pm in Cardinal Stadium. This ceremony will be honoring the 2020 graduates and May 2021 degree candidates from the College of Education and Human Development, Kent School of Social Work, School of Music, School of Nursing.
To live stream the event Clickhere. 
 UofLNews story here: https://www.uoflnews.com/post/uofltoday/three-outstanding-students-to-speak-at-uofls-spring-commencement/