AAMHI
August 20, 2019
Dear Music Director/Counselor/Principal/Resource Coordinator: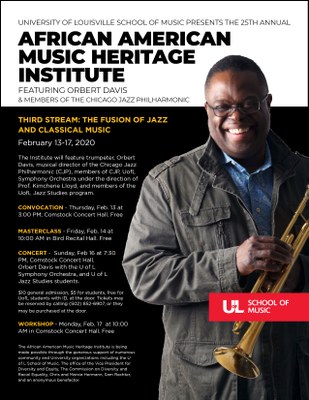 Greetings from the U of L School of Music.  As you make plans for the rest of the school year, we would like to invite you to participate in a special music workshop program at the U of L School of Music.  This will be an excellent opportunity to introduce your classes to African American music and the culture that has created it.  It is also a great way to initiate your celebration of Black History Month and address arts and diversity in preparation for end of the year testing.  This event is one of several being presented by the U of L School of Music this year.
 On Monday, February 17, 2020 we will present an educational workshop on the heritage of the African American musical tradition.   Guest artist Orbert Davis, musical director of the Chicago Jazz Philharmonic (www.chicagojazzphilharmonic.org) will present a workshop on the historical perspective of African American music from its African roots to modern jazz.  This event is part of the 25th Annual African American Music Heritage Institute, which is presented by the U of L School of Music in cooperation with several other campus organizations.
 We will be offering this opportunity for you and your students to participate in this educational and cultural event at 10:00 am on Monday, February 17th.  The workshop will be held in the School of Music Comstock Concert Hall at 1st & Brandeis on the Belknap Campus of U of L.  There will be a nominal charge of $3.00 per student for the workshop.  In order to facilitate the collection of the fee, we would prefer that you pay by one check made payable to the U of L School of Music with AAMHI as a notation.
 We are sure that you will want to take advantage of this wonderful opportunity.  Indeed, this event is just one of several in a series of programs that will be offered to area students by the School of Music.  As a part of this event, Mr. Davis will present a concert with the University of Louisville Symphony Orchestra on Sunday evening, February 16 at 7:30 pm in the Comstock Concert Hall at the School of Music.  There is a $5.00 student admission charge for the evening event. (adults are $10.00) If you are unable to bring students to the workshop, encourage them to attend the evening performance.
 For the benefit of those who will be attending the workshop, a study guide will be made available to teachers prior to our guest's appearance so that students will have an opportunity to do some pre-study and follow-up study about African American Music.  You may use the enclosed registration form to secure your reservations for the workshop.  Be sure to make your reservations early, as space will be limited.  If you have questions regarding this event, please contact Jerry Tolson at the School of Music at the number listed below.  Please share the information about this program with any other interested teachers in your building, and we thank you for your support of the U of L School of Music.
 Sincerely,
Jerry Tolson
AAMHI Director
School of Music
University of Louisville
(502) 852-6972
jerry.tolson@louisville.edu