Erica Sutton and UofL medical students improve access to colon cancer screening
Sutton and Surgery on Sunday Louisville receive award for providing colonoscopies for uninsured and underinsured
Erica Sutton, M.D.
Erica Sutton, M.D., assistant professor and director of community engagement for the University of Louisville Department of Surgery, and Surgery on Sunday Louisville (SOSL) were honored last week by the National Colorectal Cancer Roundtable (NCCRT) for efforts in colorectal cancer prevention. SOSL was presented an 80% by 2018 National Achievement Award during a live webcast on March 1 in honor of Colon Cancer Awareness Month.
Sutton, also assistant dean of medical education, clinical skills at the UofL School of Medicine, founded Surgery on Sunday Louisville, which provides colonoscopies and other surgical procedures for individuals who are uninsured or underinsured. Sutton, along with UofL medical students Sam Walling and Jamie Heimroth, who volunteer for SOSL, traveled to New York City to receive the award and participate in the live event.
National Colorectal Cancer Roundtable was co-founded by the American Cancer Society and the Centers for Disease Control and Prevention. The 80% by 2018 National Achievement Award recognizes individuals and organizations who are dedicating their time, talent and expertise to advancing needed initiatives that support the shared goal to regularly screen 80 percent of adults 50 and over by 2018. SOSL was one of five honorees recognized, along with the grand prize winner, Advocate Illinois Masonic Medical Center.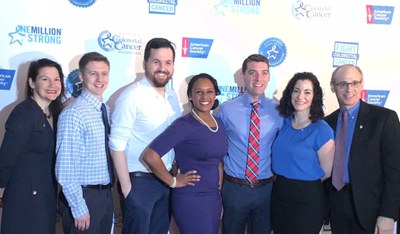 Sutton, who practices with UofL Physicians and is chief of surgery at Jewish Hospital, part of KentuckyOne Health, has special expertise in minimally invasive procedures and surgical endoscopy. Through Surgery on Sunday Louisville, she and other physicians and health-care professionals provide in-kind outpatient surgical and endoscopic care to income-eligible members of the Louisville community who are uninsured or underinsured. Among the services provided are colonoscopies for patients who may be at high risk for colon cancer but who do not have adequate health insurance coverage to obtain the recommended colonoscopies to screen for the disease.
Despite a sharp increase in the percentage of individuals who have health insurance coverage thanks to the Affordable Care Act, Sutton said some individuals still cannot obtain the tests they need.
"We have had a very successful rollout of the ACA here in Kentucky. However, there are still gaps," Sutton said. "We have people in Kentucky who cannot afford their ACA deductibles or insurance premiums. They are falling into those gaps. There are high risk people for colon cancer whose insurance doesn't cover the recommended screenings so they would have to pay for endoscopies."
Last year, Sutton, Walling and others published research in the Journal of the American College of Surgeons showing that providing free colonoscopies to high-risk individuals who could not afford the tests was cost-neutral compared with individuals who developed advanced colon cancer.
"One of the biggest messages we give is that Kentucky is doing a great job, but we still have a need for this program."
In her role as director of community engagement for the UofL Department of Surgery, Sutton says she sees department-wide support for health equity.
"Our department as a group really does want to see surgical access for all people in our community. Individually, our surgeons stand behind that and put forth their time and resources so anyone who needs surgical specialist gets the help they need. I am very proud of how they do that."
Walling, a fourth-year medical student at UofL, has volunteered with SOSL since its inception and now serves as the group's medical director. He helped develop a program to formalize medical student participation in SOSL, which he says will enable a higher percentage of medical students to gain clinical experience prior to entering residency, allow them increased understanding of health disparities and the role of humanism in medicine. Walling will report on the effort, done in conjunction with the Distinction in Medical Education program, at the Association for Surgical Education Annual Meeting in April in San Diego.
Surgery on Sunday Louisville, Inc.
Founded in 2013, Surgery on Sunday Louisville is modeled after Surgery on Sunday, Inc., of Lexington, Ky., which has been serving Kentucky residents since 2005. Physicians and other volunteers provide surgical services to uninsured or underinsured patients every other month. Patients are seen twice a month in clinic for screening and post-op visits. Since its founding, more than 500 Surgery on Sunday volunteers have treated more than 270 patients in Louisville.