About The Program
Welcome to the University of Louisville Diagnostic Radiology Residency website! 
Our residency program is fully accredited by the Accreditation Council for Graduate Medical Education (ACGME) and includes 24 residents from all parts of the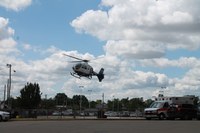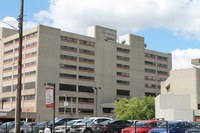 country. We rotate through five sites, including University of Louisville Hospital, Norton Children's Hospital, the Louisville VA Medical Center, UofL Health Jewish Hospital, and UofL Health Medical Center East. In addition, we remotely read cases for several UofL Health medical centers. The majority of time is spent at the University of Louisville Hospital which is a Level 1 Trauma Center and serves as the academic referral center for approximately 1 million people in Kentucky and Southern Indiana.
Areas of rotation include Angiography/Interventional, Neuroradiology, Body CT/MRI, Ultrasound, Nuclear Medicine, GI/GU Fluoroscopy, Chest, Cardiac, Musculoskeletal, Pediatrics, Mammography, and Emergency Radiology.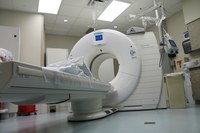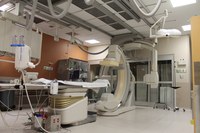 The residency encourages all eligible medical students / medical residents to apply regardless of race, color, national origin, or sex.
We are a close-knit group even though we have vastly different backgrounds. The relationships between the staff, residents, and faculty is very congenial. Residents are entrusted with responsibilities appropriate to their level of training. By your senior year, you will have a great deal of independence, and will be functioning at the level of a fellow.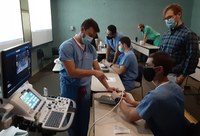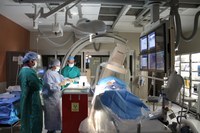 You will also have abundant opportunities for research, teaching/mentoring of medical students, and attending national/international conferences.
Program Aims Statement:

The University of Louisville Diagnostic Radiology Program strives to produce well rounded radiologists with exposure to all facets of radiology, whom are able to excel in an academic or private practice setting. We are committed to recruiting and retaining a high level of diversity and continuing to cultivate an environment of inclusion. We aim to provide excellent patient care to our community. This is achieved by providing residents with a comprehensive educational curriculum combined with a vast patient population afforded by UofL Health which includes a level one trauma center, accredited stroke center, Neuroscience collaborative center, James Graham Brown Cancer Center and Transplant Center. The Veteran's Hospital with a full complement of radiologic services also adds to patient diversity. Our program strives for continued support for residents' academic accomplishments which will provide a framework for future endeavors.
Educational Experience:
Our rotations are divided into thirteen 4-week blocks. The first year begins an assimilation of general radiologic knowledge, while the fourth year allows time for two senior electives in areas of interest as chosen by the resident. Below is a sample of what a resident interested in Neuroradiology or Interventional Radiology might expect for each of their four years of training.
Block
1
Block
2
Block
3
Block
4
Block
5
Block
6
Block
7
Block
8
Block
9
Block
10
Block
11
Block
12
Block
13
R1
NEURO
ER
FLUORO
CHEST
MSK
BODY
ER
FLUORO
NUCS
NEURO
MSK
ER
BODY
R2
VASC
VASC
MSK
FLUORO
NEURO
US
CARDS
CHEST
FLUORO
NEURO
BODY
US
BODY
R3
BODY
OB
BODY
AIRP
MAMMO
MSK
CHEST
PEDS
MAMMO
MSK
NUCS
NEURO
PEDS
R4
CARDS
US
MSK
NUCS
PEDS
VASC
NEURO
NEURO
NEURO
MAMMO
VASC
VASC
VASC
Didactic lectures are given daily at noon, including a mix of case conferences with a weekly 7 am Interventional radiology conference. Interventional journal club is monthly and quarterly diagnostic radiology journal club is held at an outside venue after hours with faculty and residents. We have a lecture series dedicated to new R1 (PGY-2) residents each July to help them quickly transition from internship and acclimate to the radiology world. We have weekly physics lectures by Telerad Physics. In addition, we have our own exceptional medical physicist, Professor Chin Ng, who leads our monthly research lecture series.
Outside of their educational responsibilities, residents may also have the opportunity to serve on student organizations and hospital/university committees such as the House Staff Council or the Quality and Safety Leadership Council.
Research:
Many prospects for research are available at the University of Louisville, and residents are encouraged to take part in these opportunities. If a project leads to presentation at a national meeting, the Department will offset the cost in accordance with University guidelines.
ESIR Designation:
The University of Louisville is pleased to have the ESIR track available for two residents per class. We are also approved for the IR Independent Residency.
Stipends & Cost of Living in Louisville:
Louisville is a very affordable city, with a cost of living 5.9% below the national average. With a median home price of $138,900, many residents choose to purchase a home or condo during their time here. Below are the stipend rates for the 2023 - 2024 academic year:
| | | |
| --- | --- | --- |
| | 2023 - 2024 Annual Stipend | Monthly |
| PGY 2 | $61, 711.24 | $5,142.60 |
| PGY 3 | $63,703.79 | $5,308.65 |
| PGY 4 | $66,581.66 | $5,548.47 |
| PGY 5 | $69,808.68 | $5,817.39 |
University Benefits:
The University of Louisville has a competitive benefits package for residents, including the following insurance plans: Health, malpractice, disability, life, and accident. Additionally, the Ophthalmology Clinic offers a discount on eye examinations and the Dental School offers a complete dental program.
The GME office provides free parking permits to residents for the HSC 620 parking garage.
Residents have full access to the University's many fitness facilities free of charge. Family members are also allowed to use facilities for an additional fee.
Residents are eligible to purchase student athletic tickets, which are offered at reduced rates through the Athletics Department. Housestaff also have access to all U of L athletic facilities including the Health Sciences Center Fitness Center, the brand new Student Recreation Center, Bass-Rudd Tennis Center, and Ralph Wright Natatorium, which are located on the main campus.
Many discounts are provided to residents through the following participating organizations: Actor's Theatre, Derby Dinner Playhouse, Kentucky Center for the Arts, Kentucky Opera, Louisville Ballet, Louisville Orchestra, PNC Bank Broadway Series, and Stage One.
Additional Departmental Support for Radiology Residents:
Annual American Board of Radiology Fees (Totaling $2,560)

: Includes Application fee during the R1 year and exam fees during R3 and R4 years.
One lab coat and personalized jacket are provided to each incoming resident.
Kentucky medical licensure annual fee
The registration fee for AIRP, valued at $2,050.00, is paid for by the department. The four week AIRP course is built into the resident's rotation schedule.  Residents are also allotted an additional $1,500.00 to offset travel costs if choosing the in-person option to Silver Springs, Maryland where AIRP is held.
The residency subscribes to the Telerad Physics Teaching program, valued over $7,500. The interactive program includes a 4-day board review course for third year residents.
Residents are provided subscriptions to RADPrimer, STATdx, eAnatomy, and MRI Online.
Third year residents receive a six month subscription to Titan Radiology, currently valued at $594.
Residents who present at an approved conference may be eligible to have a portion of the travel costs covered by the department.  Residents presenting will be given additional days off to attend the conference.
Third year residents are given five additional days off to use for fellowship interviews.
Second, third and fourth year residents participating in the holiday call schedule are granted one week off during Christmas or New Year's.