Summer Cardiovascular Research Program
Summer Cardiovascular Research Program
Undergraduate Summer Program in Cardiovascular Research for those from Under-Represented or Under-Served Populations
GOAL
The primary objective of this program is to expose undergraduate students from under-represented and under-served populations to cardiovascular research at the University of Louisville.  The program is supported by a NIH Short-Term Training Grant from the National Heart Blood and Lung Institute.  Students are recruited from Kentucky universities and colleges as well as others attending schools outside of Kentucky. At least eight summer research fellowships will be awarded each year.
SELECTION PROCESS
The program is directed towards students who have completed at least their sophomore year of undergraduate education.  Selection requirements include:
academics: GPA of > 2.8 (out of 4),

student transcripts,

a letter stating the student's interest in research and

a letter of support from a faculty member/advisor at your institution.
Applications will be reviewed by the program director and selected applicants will be sent a letter of acceptance.  A list of possible mentors and a description of their research will be sent to each student selected for the program.
PROGRAM DESCRIPTION
The research experience is for 10 weeks during the Summer.  Stipends (financial assistance for living expenses) are approximately $4,000.  Student projects are designed to give the student an in-depth, hands-on exposure to biomedical research.  It is expected that the student will provide a one page summary of the Summer experience to the program director within 30 days after completion of the project.  In addition, the student will present his/her research at a local research forum at the University of Louisville.  Opportunities also exist for paid travel for selected individuals to present at regional or national science meetings.
POTENTIAL RESEARCH AREAS
The research participants in this program are faculty from both basic science and clinical departments at the University of Louisville.  Research areas include:
diabetes,

atherosclerosis,

hypertension,

heart failure,

tissue and organ transplantation,

aging,

septic and hemorrhagic shock,

sleep,

respiratory disorders,

biomedical engineering,

(others).
Research techniques that are often used in this program may include:
measurements of blood pressure, flow and/or cardiac function,

in vivo and/or in vitro function of small microvessels,

cell culture,

genetic knockouts and viral transfections,

Western, Northern and Southern Blot analyses,

HPLC, radioimmunoassy, RT-PCR.
An application form is available on this link Summer Research Application 2019
For more information concerning this program please contact:
Irving G. Joshua, Ph.D.
Program Director and Chair
Department of Physiology
Health Sciences Center, Bldg A-1115
500 South Preston Street
University of Louisville
Louisville, KY  40292
Phone:  (502)852-5371
Fax:  (502)852-6239
igjosh01@louisville.edu
SUMMER 2019

| Isaiah Burciaga | Wintana Eyob | Shanna Hardin | Jelani Regan |
| --- | --- | --- | --- |
| Orion Rushin | Dawson Stephens | Jeff Zurita | |
SUMMER 2018
| Reality Alexander | Manuela Botaka | Shannon Derkson | Issi Kirk |
| --- | --- | --- | --- |
| Jelani Regan | America Silva | Cameron West | Hayden Wilson |
SUMMER 2017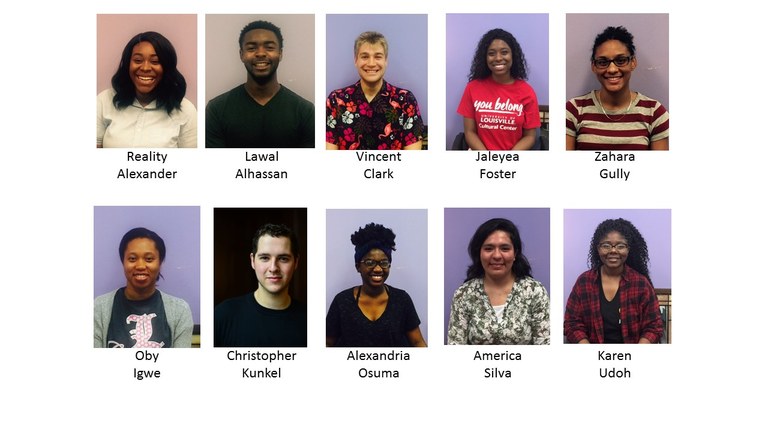 SUMMER 2016
Ernesto Calderin
Mentor, B.G. Hill, Ph.D.

Maura Fordham
Mentor, U. Sen, Ph.D.


Jared Hall
Mentor, C. Maldonado, Ph.D.


Ailey Layson
Mentor, D Lominadze, Ph.D.


Kayla Massey
Mentor, D. Borchman, Ph.D..

Claudia Mort
Mentor, Suzanne Ildstad, Ph.D.

Rubens Petit Homme
Mentor, S.C. Tyagi, Ph.D.



Kennedy Richardson
Mentor, N. Tyagi, Ph.D.




Charles Shofner
Mentor, A. LeBlanc, Ph.D.


Karen Udoh
Mentor, S.S. Kakar, Ph.D.
SUMMER 2015
 

 

 

 

Left to right:  Rubens Homme (Florida Southern College), Khaleel Wilson (Tufts University), Alejandra Gamon (College of the Sequoias), Kryshawna Beard (University of Louisville), David Logan (Eastern Kentuky University), Erik Schuschke (University of Louisville)