Aurora Cruz, M.D., M.B.A.
Neurosurgery Resident
---
Contact Dr. Cruz • 220 Abraham Flexner Way, Suite 1500
Aurora Cruz, MD, MBA was raised in Northern California and graduated from the University of California, Davis with a Bachelor of Science in Neurobiology, Physiology, and Behavior. She then attended the University of California, Irvine School of Medicine where she discovered her love of Neurosurgery. While in medical school, Dr. Cruz was active in medical education, serving on the Committee on Curriculum and Educational Policy, as an Admissions Committee Member and Student Interviewer, and several other leadership committees. She received the Associated Medical Student Government Service Award as a first year medical student and was chosen by her classmates to join the Arnold P. Gold Humanism Society and then elected as president of the Society the following year. In 2016, Dr. Cruz received her Master of Business Administration at The Paul Merage School of Business (emphasis on Organizational Behavior and Leadership) and her M.D. from UC Irvine School of Medicine with Honors in Service and Arts and Humanities. She received the Medical Arts & Humanities Award for her involvement in the Arts and Humanities throughout medical school. She was awarded the AANS Medical Student Neurosurgical Top Gun in 2016.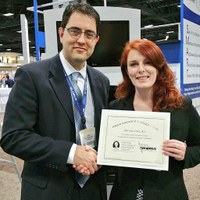 Since joining the UofL Department of Neurological Surgery as a Resident in 2016, she has served on several resident leadership committees including the Graduate Medical Education Committee's Clinical Quality and Patient Safety Subcommittee, Resident Quality and Safety Leadership Council, Graduate Medical Education Committee, and has served two years as President-Elect and President of the House Staff Council. Dr. Cruz won the Nursing Exemplar award for excellence in communication with patients and staff in 2019 and the Neurosurgery Consultant of the Year Award in 2020. She was named University of Louisville Resident of the Year, 2019-2020 and was elected to the Alpha Omega Alpha Society as a resident. She has an interest in academic leadership, resident education, and organized neurosurgery and is honored to have been elected to the AANS Young Neurosurgeons Committee for the 2020-2024 term and the Congress of Neurological Surgeons Resident Committee for the 2019-2021 term.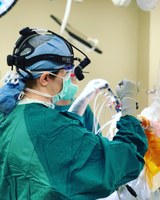 Dr. Cruz will be completing a post-graduate fellowship in Cerebrovascular Neurosurgery at the Geisinger Neuroscience Institute. Her interests include outcomes and socioeconomics of neurovascular patients and advancements in surgical approaches to incracranial vascular pathologies. Dr. Cruz's publications can be reviewed through the National Library of Medicine's publication database.
In her free time, Dr. Cruz enjoys spending time with her family, traveling, knitting, hand-embroidery, and reading historical non-fiction literature.