M&I Faculty Publish Back-to-Back High Impact Articles in 2018
Dr. Bing Li's discovery of a novel molecular link between obesity and breast cancer entitled "Circulating Adipose Fatty Acid Binding Protein is a Link Underlying Obesity-Associated Breast/Mammary Tumor Development," appeared in the online version of the November 2018 issue of Cell Metabolism (2017 impact factor 20.565).  The study was the result of a long-standing collaborative project between the Li lab and colleagues at the University of Minnesota, Hartford Healthcare Cancer Center in Connecticut and Peking University in China.  Separately, Dr. Bing Li was selected to be featured in NCI's electronic newsletter, Nutrition Frontiers, a publication of the Nutritional Science Research Group (NSRG), NCI, NIH. The NSRG Program staff selected him based on the high level of enthusiasm for his research efforts on Prevention of Breast cancer Development by Epidermal Fatty Acid Binding Protein as well as his past contributions in the field of nutrition and cancer prevention.  He will be featured in the section, "Investigator Spotlight" in October.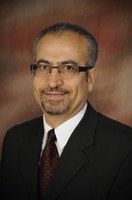 Dr. Haval Shirwan, along with a team of researchers from Georgia Institute of Technology and the University of Michigan published on a potential new therapy for treating Type 1 Diabetes.  This new therapy involves the use of a novel technology for islet cell transplantation.  More information regarding Dr. Shirwan's, et al., research may be found in Nature Materials (2017 impact factor 39.737).
Read More...
Dr. Huang-Ge Zhang's paper entitled "Plant-derived exosomal microRNAs shape the gut microbiota" has been accepted for publication in the journal "Cell Host Microbe" (2017 impact factor 17.87).  The article will be featured on the cover.   It describes the novel finding that diet-derived exosome-like nanoparticles can selectively modulate the metabolism of gut-resident bacteria via microRNA, which ultimately impacts  immune homeostasis in the gut.