Lina Mackelaite, M.D.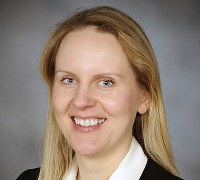 Assistant Professor of Medicine
UofL Physicians Outpatient Center
401 East Chestnut Street, Ste. 690
Louisville, KY 40202
502-852-5757- Academic Office
502-588-4714 - Patient Appointments
---
Clinical Expertise
Nephrology; Transplant; Kidney Stones
---
Board Certifications
American Board of Internal Medicine -
Nephrology
Education and Training
Medical School: Vilnius University
Residency: Drexel University Affiliated Hospitals
Fellowship: Hahnemann University Hospital; Westchester Medical Center
---
Featured Publications
Cannon RM, Locke JE, Orandi BJ, Anderson DJ, Davis EG, Mackelaite L, Dave H, Eng M, Jones CM. Impact of donor hepatitis C virus on kidney transplant outcomes for hepatitis C positive recipients in the direct acting antiviral era: time to revise the kidney donor risk index? Transplantation. 2019 Sep 9. doi: 10.1097/TP.0000000000002949. [Epub ahead of print] PubMed PMID: 31517783; PubMed Central PMCID: PMC7083245.
Bayliss GP, Cobb J, Decker B, Hellman R, Vasavada N, Mackelaite L, Shadur C, Ilori T, Ibrahim T, Leight K, Hsiao LL, Molitoris BA, Okusa MD, Parker MG; ASN Workforce Committee. Kidney Mentoring and Assessment Program for Students: a guide for engaging medical students in nephrology. Clin Kidney J. 2019 Aug 22;12(6):761-766. doi: 10.1093/ckj/sfz108. eCollection 2019 Dec. PubMed PMID: 31807288; PubMed Central PMCID: PMC6885673.
Mackelaite L, Lederer E. Hyponatremia Complicating Esophageal Carcinoma: A Challenging Differential Diagnosis. Am J Med Sci. 2018 Dec;356(6):567-569. doi: 10.1016/j.amjms.2018.05.014. Epub 2018 Jun 6. Review. PubMed PMID: 30166051.
Moskowitz-Kassai E, Mackelaite L, Chen J, Patel K, Dadhania DM, Gross SS, Chander P, Delaney V, Deng L, Chen L, Cui X, Suthanthiran M, Goligorsky MS. Excretion of anti-angiogenic proteins in patients with chronic allograft dysfunction. Nephrol Dial Transplant. 2012 Feb;27(2):494-7. doi: 10.1093/ndt/gfr638. Epub 2012 Jan 17. PubMed PMID: 22253069; PubMed Central PMCID: PMC3275786.
Mackelaite L, Alsauskas ZC, Ranganna K. Renal failure in patients with cirrhosis. Med Clin North Am. 2009 Jul;93(4):855-69, viii. doi: 10.1016/j.mcna.2009.03.003. Review. PubMed PMID: 19577118.