Rania N. Abdallah, M.D., M.Sc., FCCP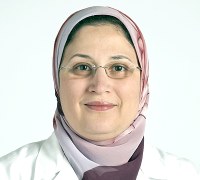 Rania N. Abdallah, M.D., M.Sc., FCCP
Assistant Professor of Medicine
UofL Physicians Outpatient Center
401 East Chestnut Street, Ste. 690
Louisville, KY 40202
502-852-5841 -
Academic Office
502-588-4600 -
Patient Appointments
---
Clinical Expertise
Pulmonary Disease; Interstitial Lung Disease; Bronchoscopy; Critical Care Medicine; ARDS; Mechanical Ventilation; Chest Ultrasound
---
Board Certifications
American Board of Internal Medicine -
Internal Medicine / Pulmonary Disease / Critical Care Medicine
Education and Training
Medical School: Asyut School of Medicine
Residency: Cleveland Clinic (Internal Medicine); Asyut University Hospitals (Pulmonary Medicine)
Fellowships: Loyola University Medical Center (Pulmonary & Critical Care Medicine); Cleveland Clinic (Research)
M.Sc.: Asyut School of Medicine
---
Featured Publications
Albalawi M, Zaidi SZA, AlShehry N, AlAskar A, Zaidi ARZ, Abdallah RNM, Salam A, AlSagheir A, AlMozain N, Elgohary G, Batarfi K, Alfaraedi A, Khojah O, Al-Ansari R, Alfaraj M, Dayel A, Al Bahrani A, Abdelhameed AN, Alhumaidan H, Al-Otaibi JM, Radwi G, Raizah A, Shatry H, Alsaleh S, AlZahrani H, Al-Hashmi H. Safety and Efficacy of Convalescent Plasma to Treat Severe COVID-19: Protocol for the Saudi Collaborative Multicenter Phase II Study. JMIR Res Protoc. 2020 Oct 2;9(10):e23543. doi: 10.2196/23543. PMID: 32903199; PMCID: PMC7546730.
Parra-Sanchez I, Abdallah R, You J, Fu AZ, Grady M, Cummings K 3rd, Apfel C, Sessler DI. A time-motion economic analysis of postoperative nausea and vomiting in ambulatory surgery. Can J Anaesth. 2012 Apr;59(4):366-75. doi: 10.1007/s12630-011-9660-x. Epub 2012 Jan 6. PMID: 22223185.
Abdallah R, Galway U, You J, Kurz A, Sessler DI, Doyle DJ. A randomized comparison between the Pentax AWS video laryngoscope and the Macintosh laryngoscope in morbidly obese patients. Anesth Analg. 2011 Nov;113(5):1082-7. doi: 10.1213/ANE.0b013e31822cf47d. Epub 2011 Sep 14. PMID: 21918156.
Abdelmalak BB, Bernstein E, Egan C, Abdallah R, You J, Sessler DI, Doyle DJ. GlideScope® vs flexible fibreoptic scope for elective intubation in obese patients. Anaesthesia. 2011 Jul;66(7):550-5. doi: 10.1111/j.1365-2044.2011.06659.x. Epub 2011 May 13. PMID: 21564041.