Palliative Medicine Fellowship
The University of Louisville School of Medicine Palliative Medicine training program began operation in July 2004. As the first palliative medicine fellowship offered by a Kentucky university and one of over 60 programs nationwide, the program is a one-year, clinical training program for physicians.
---
---
Clinical Training
Required clinical training includes rotations at inpatient palliative care and hospice programs, community-based hospice, palliative care programs, and ambulatory care palliative care programs.
Inpatient Hospice and Palliative Care Training
Inpatient consultative palliative care rotations are offered at UofL Health - UofL Hospital, Norton Hospital and the Robley Rex Veterans Affairs Medical Center (VAMC). This gives fellows a wide range of palliative care experience from an academic and community standpoint with a varied range of patients including the Veteran population. Inpatient hospice training is provided by the Hosparus Inpatient Care Center (HICC), a hospice IPU run by the VAMC. Fellows spend a total of eight (8) months assigned to the HICC or inpatient palliative care services. There is also exposure to inpatient pediatric palliative care patients through the Hearts and Hands Palliative Care Team at Norton Children's Hospital.
Community-Based Care
Fellows are required to complete a rotation with the VAMC Home-Based Primary Care Program (HBPC) seeing patients in need of palliative care consultation or assigned to community hospice care. Community-Based Hospice and Palliative care visits are accomplished through partnership with Hosparus Health. Fellows perform hospice and palliative care home visits with the adult and pediatric (Kourageous Kids) interdisciplinary teams and partner with them to develop goal concordant plans of care for patients and families. During hospice focused months fellows will participate in the regulatory Interdisciplinary Team (IDT) meetings required in hospice care. While assigned to the palliative care long-term care month, fellows rotate with two board certified hospice and palliative care physicians who see palliative care consults and hospice patients at several local long-term care facilities.
Ambulatory Care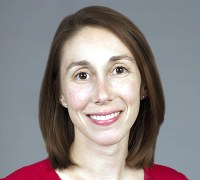 Kimberly Pate, M.D.
Director
Palliative Medicine
Fellowship Program

Drew Lally, M.D.
Associate Program Director
Fellows have a year-long palliative care continuity clinic experience, occurring one half-day per week. This is accomplished through partnership with the palliative care team at Norton Hospital.
Educational Conferences
Fellows are required to participate in weekly conferences throughout the year. Our interdisciplinary conferences consist of two hours of the following activities: lectures addressing core palliative care concepts, case reviews, journal clubs, and self-care.
Accreditation
The University of Louisville Palliative Medicine Fellowship is accredited Accreditation Council for Graduate Medical Education (ACGME).
Program Partners
Five organizations, the University of Louisville School of Medicine, UofL Health - UofL Hospital, Robley Rex Veterans Affairs Medical Center, Hosparus Health and Norton Healthcare work together to provide a comprehensive clinical education program for physicians seeking specialty training in hospice and palliative medicine. Information on program partners may be found on the Participating Clinical Sites link on this site.