Interventional Cardiology Fellowship Program
---
---
Goal and Mission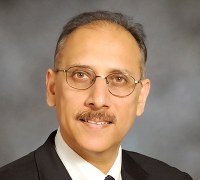 Sohail Ikram, M.D., FACC
Director, Interventional Cardiology
Training Program
The primary goal of the University of Louisville Interventional Cardiology Training Program is to provide the highest quality training in the field of Interventional Cardiology. All trainees will be required to develop and demonstrate competence in the procedural skills, clinical knowledge, judgment, and most importantly the professionalism required to become an academic Interventional Cardiologist. Upon completion of the training program, each trainee will have acquired the competency to pass the appropriate specialty boards required to practice independently as a specialist in the field.
The program is open to all eligible applicants regardless of race, color, national origin, sex, disability, or age.
Objectives
Our Fellows receive training in the evaluation and management of patients with a wide variety of acute and chronic cardiovascular conditions:
Coronary Artery Disease (including those with high-risk lesions or substrate)
Peripheral Artery Disease
Adult Congenital and Acquired Heart Disease (including Valvular Heart Disease)
Aortic Disease
Cardiomyopathies
Pericardial Disease
Currently our program accepts two Fellows each year, with many fellows coming to the program directly from our general cardiology training program. We remain committed to the highest quality of training for the Fellows in our program.
Evaluation
We feel strongly that frequent evaluation and constructive feedback are essential for Fellows to learn and grow during their training. It is therefore imperative that rotation directors discuss goals and learning objective at the start of each rotation. They must also provide feedback and discuss performance with each Fellow, particularly at the end of the evaluation period.
Fellow and faculty evaluations are officially documented quarterly using the web-based evaluation system. Fellows are evaluated by the faculty members with whom they have worked using the standard American Board of Internal Medicine (ABIM) competency categories, as well as program-specific learning objectives set forth by the rotation director.
Fellows may review their evaluations and faculty feedback in the system at any time using their password to gain access to the secure program at either their personal computer or at a hospital workstation. To ensure anonymity, faculty members will receive an anonymous aggregated report once a critical mass of comments has been accumulated
Evaluation of performance is based on the following standard ABIM Competencies: Patient Care, Medical Knowledge, Interpersonal and Communication Skills and Professionalism, as well as the learning objectives of the program as set forth by the Director.
On two occasions per year, division faculty as a whole meet to discuss the performance of trainees in each training program. The program director also completes a final evaluation for fellows who are leaving the program each year. The Program Director also monitors a procedure report to make sure that each fellow has participated in the appropriate number of required procedures.
Fellows may speak freely to the program director at anytime if they have a concern about any aspect of their training. At the end of each year, Fellows are asked to evaluate the program as a whole, and are encouraged to offer suggestions for continuous quality improvement. Comments from program graduates are solicited by means of a survey, which is sent after one year, and again after five years, asking them to evaluate their training and request their recommendations for program improvement.
Program Requirements/Curriculum
Our program is accredited for one-year and complies with all Accreditation Council for Graduate Medical Educational (ACGME) requirements including the guidelines and recommendations of the American College of Cardiology (COCATS). We accept two to three fellows per year, and our training program in structural heart disease complies with formal training requirements outlined by the ACC/AHA/SCAI statement for clinical competence. Upon completion of our program, Fellows will be equipped with the knowledge, skills and abilities to meet the requirements for certification in interventional cardiovascular diseases, as determined by the ACGME and the American Board of Internal Medicine.
Conferences
All fellows are required to attend the weekly interventional conference, which includes film review, journal club in addition to quality improvement discussion. Numerous other Divisional conferences are held on a continuing basis, including a multidisciplinary research conference, echo conference, and subspecialty conferences in electrophysiology, interventional cardiology, and heart failure/transplantation. In addition, a combined cardiology-cardiothoracic surgery valve conference and an advanced imaging conference are held for all fellows to attend. Fellows are encouraged to attend as interest and time dictate.
Training Activities
All teaching activities are carried out by the faculty (full-time and gratis) within the Division of Cardiovascular Medicine and all key faculty are boarded in Interventional Cardiology. The ratio of key faculty to fellows is >3:1.
All faculty are expected to demonstrate the highest standards of patient care, scholarship and clinical knowledge in their capacity as educators and role models for the trainees. Because the Division of Cardiovascular Medicine is directly affiliated with the Department of Medicine and training programs in both Internal Medicine and Cardiovascular Disease, Fellows are able to maintain their skills in the aspects of general internal medicine and those that relate to Cardiology. They will interact closely with the medicine residents and interns as they rotate through the Interventional Cardiology service. Fellows will also maintain close working relationships with faculty and Fellows in other divisions of Medicine and in other departments in their role as consultative physicians. They will also work closely with technicians, physician assistants, nurses and other staff in the division.
Fellows also participate in one weekly outpatient clinic during their year of their training. This important aspect of the training will allow Fellows to apply what they are learning in their clinical training to the actual practice of medicine, under the guidance and supervision of their clinical mentor. Fellows may set up their outpatient clinic with the clinical mentor of their choice at the UofL Physicans Outpatient Center (HCOC) or the Robley Rex VA Medical Center.
In addition to providing an intense training in PTCA/PCI, intravascular ultrasound, fractional flow reserve, rotablator and insertion of percutaneous left ventricular assist devices, we are also a regional center for complex atrial septal defect closures (as well as patent foramen ovalve closures), patent ductus arteriosus, ethanol septal ablation, percutaneous valve procedures including balloon valvuloplasty, and transcatheter aortic valve implantation. Fellows also participate in peripheral vascular procedures that with our interventional and vascular surgery staff with exposure to hybrid surgical/endovascular techniques. Our staff perform well over 1500-1700 interventions each year. Each fellow will participate in more than 450 cases.
Training Sites/Facilities
Training activities take place at the UofL Health - UofL & Jewish Hospitals and VA Hospitals. The primary site, the UofL Health - Rudd Heart and Lung Center at UofL Health - Jewish Hospital is a 462-bed internationally renowned, tertiary referral center located in downtown Louisville. UofL Health - UofL Hospital is also a regionally and nationally renowned tertiary referral center and Level I Trauma Center. In addition, Fellows will participate in interventional procedures at the VA Medical Center. The primary training site, UofL Hospital - Jewish Campus Cardiac Catheterization Laboratory, is a state of the art imaging facility performing over 16,500 diagnostic and interventional procedures annually. The cath lab operates nine procedure rooms and has a hybrid catheterization lab. The Cardiology Section is involved in treating patients with disorders of the heart and vascular tree including coronary artery disease, congestive heart failure, valve disease, congenital heart defects, cardiomyopathy, and peripheral vascular disease.
The patient population encountered within the UofL interventional program provides a broad range of cardiovascular disorders. In the course of their training, Fellows will see virtually every known form of adult cardiovascular disorder.
Application Information

The program accepts applications using ERAS. Please submit all documentation through ERAS by the January 5 deadline. Additionally, applications must be supported by an objective letter of reference from your current Cath Lab Director, Cardiovascular Program Director, and a research mentor.
Applicants must be medical school graduates who have successfully completed three years of Internal Medicine training with certification by the American Board of Internal Medicine. Applicants will have successfully completed or currently participating in an ACGME accredited Cardiology Fellowship Program.  Foreign applicants are required to possess appropriate immigration documents. J-1 Visa, a valid Permanent Resident Card, or valid Employment Authorization Document are acceptable. These documents must be active during the ERAS application process.
Once completed applications are reviewed, selected applicants are invited for formal interviews via email. Interviews are held in the spring (March-April).
Contact
Program Coordinator
Jason Tucker
201 Abraham Flexner Way, 6th Floor
Louisville, KY  40202
Phone: 502-852-9532
E-mail: jason.tucker@louisville.edu

Financial Support
Fellows are not required to generate any portion of their salary. Fellows in this clinical training program are guaranteed salary support for the year and are supported by clinical funds.
Salary levels for trainees are in line with university required PGY pay scale, and are adjusted on an annual basis.