M.S. in Anatomical Science and Neurobiology (Non-Thesis)
M.S. in Anatomical Science and Neurobiology (Non-Thesis)
Overview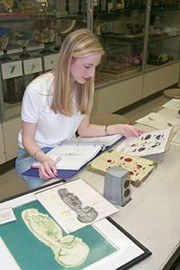 So you're interested in a career in the health sciences, but you're wondering why you should consider the Anatomical Sciences & Neurobiology graduate program. It is hard to imagine a discipline more basic to a health career. Whether your interest is medicine or dentistry, allied health or nursing, teaching or sophisticated biomedical research, understanding the structure and organization of the human body at the developmental, gross, microscopic, and subcellular levels is essential.
If you invest your time and energy earning a graduate degree in Anatomical Science & Neurobiology, will your degree support your subsequent search for employment? The answer is that it will and the reasons are many. There are many facets to your training here, and the breadth of your experience will afford you a variety of career options.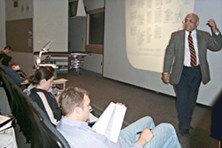 In considering a Ph.D. or M.S. Degree, one naturally (and correctly) assumes that the training program is built around research. Clearly, our focus is neurosciences, but research expertise is available in other areas as well. Teaching also is a priority for many graduate trainees, and ample opportunities are available to gain experience in this area as well.
The Department's research facilities are state of the art. You will develop the habit of scientific thought and acquire myriad technical skills. You will, in addition, hone both written and oral communication skills by presenting and discussing your research, and by sharing your knowledge through teaching. The proportion of time you will spend in either of these activities can be adjusted to address your specific needs and career goals.
Your degree in hand, you can go many directions. If your interest is wholly research, your Ph.D. can open doors at universities, research institutes, and corporate research labs; bright young graduates working at the frontier of biomedical research are welcome everywhere. Your M.S. is your key to a supervisory position in a research lab; knowledgeable, skilled technical assistance is a vital component of a successful research program. If you prefer a blend of research and teaching, and have judiciously planned your Ph.D. program, you would likely opt for a faculty position in a medical, dental, nursing or allied health department in a university setting. If teaching is your forte, your M.S. will open doors for teaching science at the high school or college level, and your Ph.D. will support you at the university and postgraduate levels.
Resources
Curriculum
Non-Thesis Degree
Students who intend to complete a Ph.D. degree within the Department of Anatomical Sciences and Neurobiology (ASNB) are eligible to participate in the non-thesis M.S. program. Students are required to meet the requirements for the M.S. degree as described in the current U of L Graduate School Bulletin. ASNB imposes the following additional requirements 1:
Course requirements
credit hours
Biochemistry I (Bioch/Che 545) or equivalent
3.0
Cell Biology (MBIO 667) or equivalent
3.0
Two lab rotations (ASNB 618), totaling at least 6 credit hours
6.0
One methods course
3.0
Seminar (ASNB606), each semester prior to candidacy 1/semester

At least 6 credits of the following core courses: 2
Course Title
Credit Hours
Gross Anatomy (ASNB 601)
6.5
Microscopic Anatomy (ASNB 603)
5.0
Human Embryology (ASNB 605)
2.0
Neuroanatomy (ASNB 607)
3.0
Neural Systems (ASNB 608)
4.0
Dental Gross and Neuroanatomy (ASNB 672)
3.0
Head and Neck Anatomy (ASNB 673)
4.0
Dental Microscopic Anatomy (ASNB 671)
5.0
In addition to the core courses, at least 6 non-research hours inside the department: 6


1 of the following required electives:*
| Elective course titles | credit hours |
| --- | --- |
| Introductory Immunology (MBIO 602) | 2.0 |
| Biochemistry II (Bioch/Che 547) | 3.0 |
| Cellular and Molecular Immunology (MBIO 658) | 3.0 |
| Neuroanatomy (ASNB 607) | 3.0 |
| Neural Systems (ASNB 608) | 4.0 |
| Physiology I (PHY 605) | 3.0 |
| Physiology II (PHY 606) | 3.0 |
1 Course substitutions can be made if approved by the ASNB Graduate Education Committee.
2 ASNB 607 or 608 fulfill both core and elective requirements.
Laboratory Rotations
Each student will complete at least two rotations in different laboratories prior to start of their third semester. The objectives are to expose the student to different approaches and areas of research, and to assist the student in choosing a laboratory for dissertation research. For each rotation, the student will register for the 3 credit course Laboratory Rotation (ASNB 618) which is graded on a pass/fail basis. Once a student has completed a semester rotation in a given laboratory, they obtain credit for further research in that laboratory by registering for Original Investigation (ASNB 619).
Advisory Committee
The purpose of the advisory committee is to guide the student in developing a course of study that will prepare him or her for a successful career. To this end, the Committee may specify one or more of the courses to be taken by the student.
The committee will have a minimum of five members. The Principal Advisor will serve as chair. The majority of committee members must have a primary or joint appointment in ASNB. At least one member must have a primary appointment in a department outside ASNB (this outside committee member must not have a joint appointment in ASNB). The student, in conjunction with the advisor, should form a committee prior to the start of the third semester. Once the committee is formed, the student will meet with the committee at least twice per year. Following each meeting, the mentor will submit a written brief summary of the meeting to be placed in the student's file. This written evaluation will provide the Education Committee with a record of the progress of each student.
Masters Candidacy
Following completion of all required coursework, each student is considered a Masters Candidate and will register as such (MAST).
Qualifying Exam
The purpose of the qualifying exam is to assure that the student has sufficient knowledge and skills to begin a research project. The exam will be taken within 2 terms (Fall, Spring or Summer terms) after the completion of required coursework. The exam consists of an oral presentation and defense of a research proposal (described below).
Prior to writing the Research Proposal, the student will develop an outline of the proposed experiments in coordination with their advisor and then present this outline to their committee. It is at this point, prior to writing the Research Proposal, that the committee should recommend any changes in the research plan, regarding, for example, too many or too few experiments, experiments that are too difficult, or experiments that may be more appropriate for addressing the research question. Once the committee is satisfied with the proposed experiments, the student will write a Research Proposal in the following general format.*
Literature Review
Section one will be an extensive literature review (similar to an expanded Background and Significance section of a National Institutes of Health grant proposal). This review should provide evidence that the student understands all background information relevant to the proposed research.
Hypotheses and Experiments
This section will consist of a list of the proposed hypotheses to be tested, and a brief description of the experiments that will be used to test these hypotheses.
Materials and Methods
This section will consist of a detailed description of the materials and methods that will be used to carry out the proposed experiments.
Expected Outcomes
This section will describe the expected results.
Potential Problems
This section will describe any potential problems that could occur, how they might affect interpretation of their research results, and how the student will address any potential problems.
*All students are encouraged to submit (in coordination with their advisor) an application for a National Institutes of Health Predoctoral National Research Service Award (F31) or a National Science Foundation Predoctoral Award. Therefore, the Research Proposal may be submitted in the format of a relevant application with the exception that the background and significance section should be expanded to include a more extensive literature review than permitted by the NIH or NSF page limitations.
Upon completion of the research proposal, the student will distribute a copy to each committee member, who will have two weeks to read the proposal.
The qualifying exam will be chaired by the student's advisor. The exam will begin with an oral presentation, open to all faculty, in which the student will present a short (approximately 20 min) overview of the research plan. The presentation will be followed by an oral defense to assess the student's readiness to conduct the proposed research, and their knowledge of all background information relevant to the proposed research. Non-committee members in the audience will then ask questions. The general audience will then be dismissed and the student will defend his/her proposal before the committee. Passing will be determined by majority vote of the committee. A student who fails the exam will have 2 months to retake the exam. Failure on the second attempt will result in dismissal from the program.
Upon successful completion of the exam, a written report stating the outcome of the exam will be signed by each committee member and will become a permanent part of the student's record. A passing vote indicates that the student has completed the requirements for a M.S. degree.
How to Apply
Application to the Department of Anatomical Sciences and Neurobiology:
All students wishing to apply must submit an application to the Graduate School with the following documents:

a minimum of two letters of recommendation
official transcrips of all college work
official scores on the Graduate Record Examination (GRE) General Test

All international applicants whose native language is not English must submit Test of English as a Foreign Language (TOEFL) scores.
In addition, our department requires a brief statement of purpose describing your interests and career goals.
Contact
Robert F. Lundy, Jr., Ph.D.
Chair, Admissions Committee
Admissions Committee
Department of Anatomical Sciences and Neurobiology
University of Louisville
Louisville KY 40292
Careers
Many of our M.S. graduates have gone on to medical school and have achieved positions in some of the most prestigious medical schools in the country, as well as productive positions in private practices. Others have gone on to a variety of technical positions in industry and government.
Graduates with Ph.D. degrees hold prominent positions in academia, industry, government, and medicine. Most graduates follow their doctoral degrees with a postdoctoral fellowship. Some graduates move directly to teaching/research positions, while others have taken positions in industry.
Financial Aid
College is one of the biggest expenses you'll have in your lifetime, but it is an investment that will pay off in higher income, expanded career opportunities, and greater personal satisfaction throughout your life. Numerous sources of financial aid can help you pay for college.
The process of locating aid and applying for it can be intimidating. Take it step-by-step and don't hesitate to ask for assistance from the knowledgeable financial aid counselors in UofL's financial aid office.
In addition to the financial aid opportunities offered by the University, the School of Medicine also has information about financial aid.
The Graduate School offers University Fellowships. Teaching and Research Assistantships are available when not occupied by current students. Inquire for current availability.
The Integrated Programs in Biomedical Sciences (IPIBS) is a newly designed pathway for entering graduate students who are interested in biomedical research as a career choice. The University of Louisville can offer you an outstanding financial assistance package, a supportive academic environment in a friendly and vibrant city.  This link will provide more information on Louisville, Kentucky (click here).
Frequently Asked Questions
What is the minimum acceptable undergraduate grade point average?
In general, a cumulative undergraduate grade point average of 3.0 or higher on a scale of 4.0 (A=4, B=3, etc.) is required for admission in our department.
What is the minimum acceptable GRE score?
In general, scores should be at or above the 50th percentile.
What is the minimum acceptable TOEFL score?
If using the written test, 550.
If using the computerized version, 213.
Can my application fee be waived?
No, we can't consider your application until the graduate school receives the application fee.
What courses do I need to apply for your program?
Success in our program requires a strong science background. Most of our students have majored in one of the biomedical sciences (e.g., biology, chemistry, neuroscience, psychology). Most undergraduate programs in these areas require at least two years each of biology and chemistry, math through calculus, and one year of physics. Good performance in elective courses (e.g., biochemistry, cell biology, neuroscience, anatomy and physiology) related to your interests is also very helpful.