Outreach
At the University of Louisville faculty and students regularly coordinate and participate in many service and outreach engagements within the community and throughout the state of Kentucky. These engagements include:
Kentucky's Special Olympics MedFest 
Special Olympics hosts a Medfest for public school students to receive health exams and hearing screenings. Our students volunteer to provide hearing screenings to student's in need. 

Community hearing screenings 
UofL School of Music
Health fairs
Local pre-schools
Special Olympics of Kentucky MedFest 
UofL School of Medicine Compassion Clinic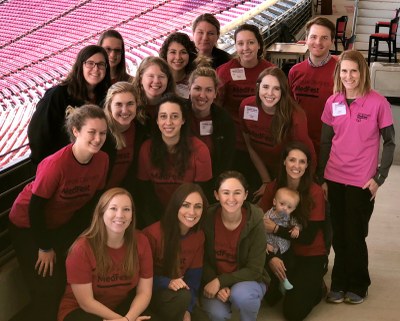 Our faculty and students screened the hearing of over 170 athletes this year at the Special Olympics of Kentucky's MedFest!
---
Educational seminars
Healthy hearing seminars
In-service trainings
Research and current literature updates
---
Legislative Efforts 
Dr. Casey Roof (former President of Kentucky Academy of Audiology), along with six of our third-year students went to the Kentucky Capitol in Frankfort to testify for single licensure for Audiologists in KY. It was a successful turnout and we are optimistic that single licensure will be passed in the upcoming year!
---
Kentucky HLAA's Walk4Hearing
Kentucky HLAA hosts an annual Walk4Hearing. Our faculty and students volunteer to support members and families of the Kentucky Hearing Loss Awareness Association. 

---
Noise Surveys and Hearing Conservation Programs
Students have the opportunity in their third year to participate in and receive training and certification through the Council for Accreditation in Occupational Hearing Conservation (CAOHC) through the Prevention of Hearing Loss class (AUDI652) taught by Dr. Laura Galloway.
---
Red Bird Mission and Clinic
"Red Bird Mission and Clinic, located in Beverly, KY, have been providing ministries in this region of the Appalachian Mountains since 1921. Today the need remains critical in this isolated, rural distressed area. Chronic poverty, lack of jobs, poor housing, and rugged mountainous terrain provide obstacles to a fuller life for the residents of this area. Red Bird Mission and Clinic strives to meet these needs through ministry in five areas: Education, Health and Wellness, Community Outreach, Economic Opportunity, and Community Housing Improvement." - Red Bird Mission, Inc.
Feeling compelled to reach out to the underserved population of hearing-impaired individuals in the Eastern Kentucky mountains, our Au.D. students, accompanied by program faculty, established a relationship with other healthcare providers at Red Bird Mission and Clinic. Their work at that site was underwritten by one of the major hearing aid manufacturers.
Students and faculty have made a number trips to this rural clinic, most recently in May 2018. They have completed auditory screenings, hearing evaluations, cerumen management, hearing aid evaluations, and hearing aid fittings on scores of patients. In addition to the many trips out to the clinic, a number of our students have decided to incorporate the Red Bird Mission and Clinic as a part of their 4th-year project. Their projects have entailed training volunteers on basic hearing aid troubleshooting and maintenance, as well as developing a hearing aid manual and troubleshooting guide to aid the volunteers. 
In May 2019, Dr. Brittany Brose, Dr. Lauren Pollock (UofL graduate and on-site clinician), and three UofL students (Marisa Carrozza, Lauren Langan, and Beth Rosen) returned to the Red Bird Clinic in Beverly, KY. Students traveled from the University of Louisville, Northeast Ohio AuD Consortium, the University of Auburn, and the University of North Carolina and performed hearing tests, hearing aid fittings, and hearing aid troubleshooting for over 100 patients over the course of the 3-day clinic. 
In May 2018, Dr. Brittany Brose and Dr. Brittany Kyzer led audiology students through a three-day hearing clinic at the Red Bird Clinic alongside UofL alumna, Dr. Raquel Heacock. Students traveled from the University of Louisville, Northeast Ohio AuD Consortium, and Ohio State University and were able to perform numerous hearing tests, hearing aid fittings, and hearing aid trouble shooting over the course of the clinic.